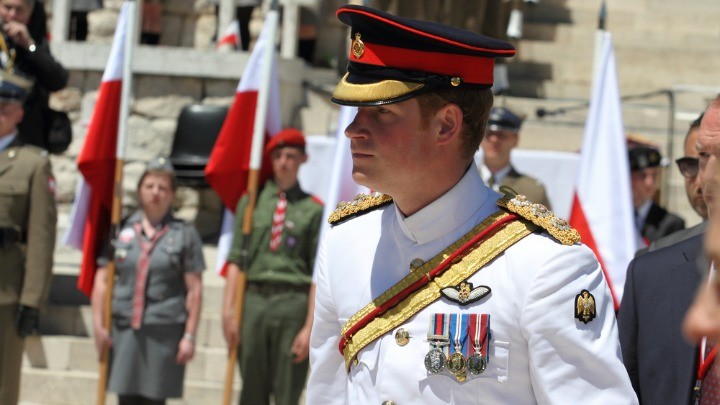 Prince Harry has opened up in a television interview about the moment that 'broke him', but also inspired him to become a champion of wounded soldiers.
The young prince told ABC America he was gutted when he was forced to withdraw the front line during his first tour of duty in Afghanistan – something he had spent years working towards.
He was plucked from the line of fire after only 10 weeks on the ground after numerous media outlets leaked the location of his secret deployment in early 2008, putting the prince and his fellow soldiers in even more danger.
As he boarded his flight home, Harry said he was devastated that his dream of serving alongside his 'brothers' had been taken away from him, but it was something else that happened on that flight that changed his life for good.
'I had done everything I could to get out there,' he told GMA's co-anchor Robin Roberts.
'All I wanted to do was prove that I had a certain set of skills, let's say, flying an Apache helicopter, for instance, rather than just being Prince Harry.'
He explained: 'Literally being plucked out of my team, there was an element of me thinking 'I'm an officer, I'm leaving my soldiers and it's not my own decision.'
'I was broken. I didn't know what was going to happen to them and then suddenly, I find myself on a plane that's delayed because a Danish soldier's coffin was being put onto the plane.'
He described seeing soldiers on that flight with missing limbs and other traumatic injuries.
'While I'm sitting there, I look through the curtain in the front, and there's three of our lads wrapped up in plastic, missing limbs,' he said.
'One of the guys clutching a little test tube or whatever it is of shrapnel that had been removed from his head and he was in a coma, clutching this thing.
'And I suddenly thought to myself, 'People don't get to see this.'
'I never in those ten weeks, I never saw the injury part. I only heard about it. That's how it all started for me.'
It was this moment that inspired Harry to launch the Invictus Games, an inaugural event that brings wounded soldiers together to compete in an array of sports and competitions.
The games have won high praise and are a much-loved event by the wounded veterans who are learning to live their lives bound by wheelchairs and handicaps after being horrifically injured on the battlefield.
Harry is a huge advocate for returned and wounded soldiers and says being in the army was one of the best experiences of his life.
'Ten years in the Army was the best escape that I've ever had. I felt as though I was really achieving something. I felt as though I was part of a team.
'All its done over those ten years is given me this amazing amount of knowledge and experience where I am now perfectly positioned to be their voice and champion their cause.'
He eventually returned to Afghanistan in 2013, where he completed a 20-week deployment as an Apache co-pilot.
What are your thoughts on the young prince?
Are you a fan of Prince Harry? Do you think he is a good role model for the younger generation?
Comments