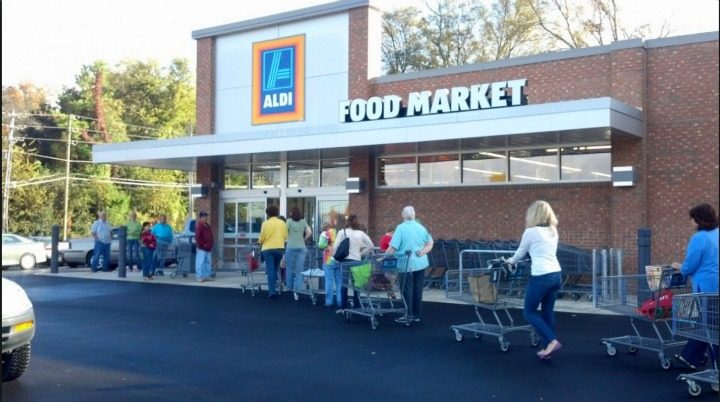 Aldi carparks across the country sure were a sight to behold this morning as hundreds of people lined up for a chance to get their hands on the supermarket giant's latest sale item.
Aldi opened its doors at 8am this morning and was inundated with hoards of bargain-hunters ready to scoop up whatever they could at the German chain's annual ski sale.
Skiing has become hugely popular among many Australian families over the past few years, thanks to cheap flights to Japan and neighbouring New Zealand, but the ski gear itself isn't always so affordable.
That's why when Aldi announced it was going to be selling its high-quality ski gear at a discounted rate shoppers jumped at the opportunity.
One minute until doors open and the line extends around the block at @ALDIAustralia Kelvin Grove @couriermail pic.twitter.com/MwFRQfPaAn

— Rhian Deutrom (@Rhi_lani) May 13, 2016
Tonya Pearson braved the chilly morning weather and waited in line with her children at one of Aldi's Brisbane stores for hours this morning so she could get everything she needed for her family to enjoy a winter getaway.
"We're travelling to Japan for a ski trip so we have a huge list of things to buy," Ms Pearson told News Corp.
"I brought my sister as back up to help."
While most Aldi customers manage to keep their shopping dockets below $100 thanks to its low prices, that wasn't the case today as people spent up big on boots, jackets, pants and hats.
Ms Pearson spent more than $1000, but says it was well worth it compared to what she'd have to pay elsewhere.
"The kids grow out of their gear so quickly so we always come down to stock up," she said.
"It gets crazy inside though with people shoving you out of the way so it's always good to have a plan."
Have you ever lined up for a bargain at sales time? Would you buy clothes from Aldi, or do you prefer to stick to groceries only?
Comments