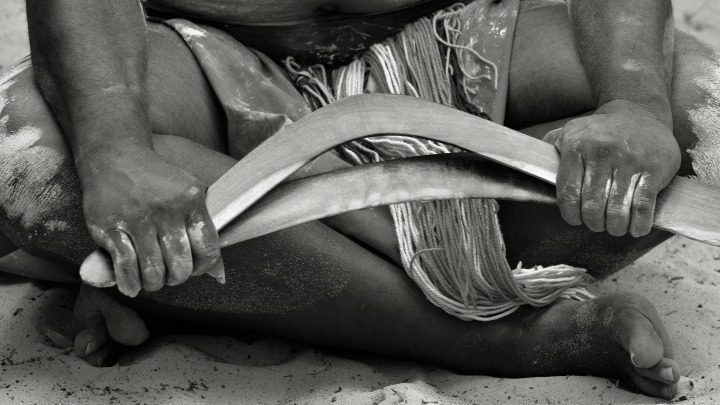 There has been a lot of discussion over the years about the lack of recognition in the body of the Australian Constitution, but a survey of hundreds of Aboriginal people around Australia has revealed significant diversity in the views on recognition.
The National Congress of Australia's First Peoples has found a majority of the responses it has received to the survey so far favour a treaty as a first priority above changes to the Constitution.
The strong support for a treaty would represent a settlement between First Nations and the Government that is in line with treaties in New Zealand and Canada according to Congress co-chair Jackie Huggins.
"We won't stand back in terms of letting the Government know that this is a real issue for our people and they are saying to us loud and clear that they would want a treaty," Dr Huggins told the ABC.
When discussion on the topic was held in 2012, an expert panel of indigenous leaders, politicians and legal minds recommended recognition should take place in the body of the Constitution rather than by inserting a new preamble, and the new section would recognise that "the continent and its islands now known as Australia were first occupied by Aboriginal and Torres Strait Islander people".
There was also a recommendation to remove racist sections of the Constitution, acknowledge the continuing relationship of indigenous people with their traditional lands and waters, and a proposal to recognise Aboriginal and Torres Strait Islander languages as the original Australian languages.
Dr Huggins says Aboriginal policy is "in crisis" and "things are not on track" with the referendum, which has caused a lot of confusion.
The Federal Government established a Referendum Council in December 2015, which the then prime minister Tony Abbott said would "advise on progress and next steps towards a referendum to recognise Aboriginal and Torrest Strait Islander peoples in the Australian Constitution".
The Australian Constitution can only be changed by a referendum.
When the Australian Constitution was being drafted Aboriginal and Torres Strait Islander peoples were excluded from the discussions about the creation of a new nation. This and sections of discrimination within the body of the Constitution have led to calls from Aboriginal and Torrest Strait Islander peoples to have their rights recognised and acknowledged by the Australian Government and the Australian people.
Questions in the recent survey of indigenous people included whether members supported a Statement of Acknowledgement in the Constitution; whether the Commonwealth should have the power to make laws for Aboriginal people; whether Congress should support a ban on racial discrimination; and whether the referendum should be held on May 27, 2017 (the 50th anniversary of the 1967 referendum that stands as a critical milestone in the battle to fix Australia's lack of recognition of its indigenous people).
Do you have an opinion on this issue? What should Australia do to recognise Aboriginal and Torres Strait Islander people in the Constitution?
Comments