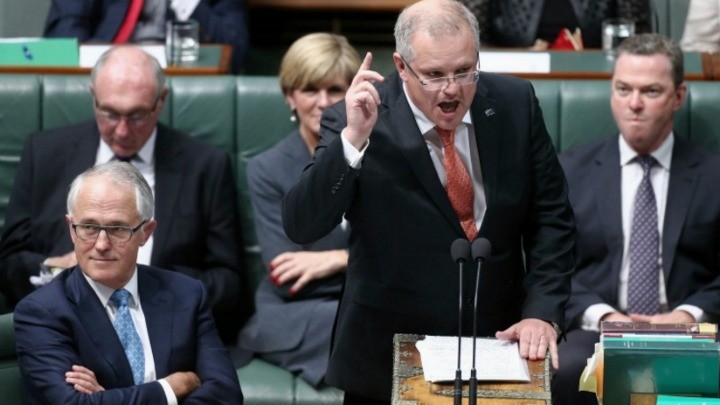 Malcolm Turnbull has consistency said called for transparency and a united government since he took office last September, but it looks as though the PM hasn't been playing by his own rules.
Mr Turnbull has been forced to admit that his own Treasurer Scott Morrison was not in the "very small circle" that was made aware of plans to bring the Budget forward on Monday morning.
Mr Morrison was reportedly caught off guard when the PM announced the Budget would go ahead a week before planned and was forced to play catch up as he tried to get a grasp on the changes.
The confusion about the Budget announcement has raised eyebrows and has many people questioning just how "united" Malcolm Turnbull's government really is.
After taking over from Tony Abbott last year, Mr Turnbull says he has focussed on creating a close team within his party to try to move on from the tensions that arose during Mr Abbott's leadership.
With a federal election looming, the government has a tight race on their hands and any sign of discontent within the LNP could do a lot of damage at the polls.
While Mr Turnbull enjoyed a surge of popularity within his first few months of office, the tables have turned in recent weeks with the latest Roy Morgan poll showing the ALP now sitting at 50.5% over the LNP's 49.5% – meaning if an election was called tomorrow it would be too close to call.
Although the PM insists that Mr Morrison was "in the loop" on the budget changes, he also admitted he didn't include him in the decision to move the budget forward.
Whether they voted for the LNP or not, many people were hoping that Mr Turnbull would be able to rid the government of the kind of in-fighting that plagued Mr Abbott's leadership.
Now some are saying this is proof that Mr Turnbull is behaving in a similar matter as his predecessor.
Do you think Malcolm Turnbull is a better PM than Tony Abbott? Who will you vote for in the federal election?
Comments