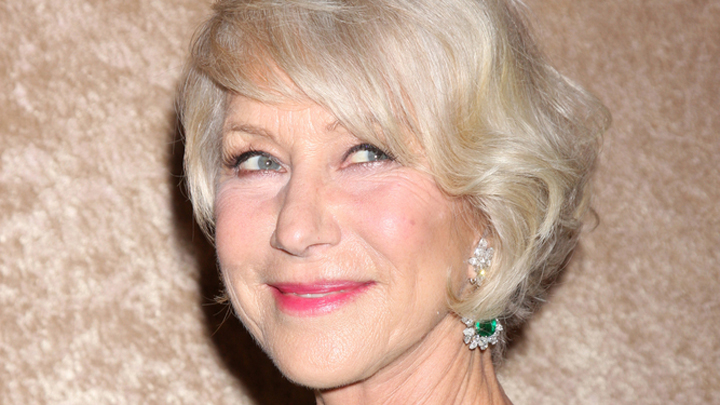 When Dame Helen Mirren was asked to be the spokesperson for L'Oreal products she was honoured. She also had one request to the cosmetic giant don't retouch her.
Talking to Woman and Home magazine for their August issue, Helen told the reporter "All my life I've been looking at 16-year-old girls selling beauty, so I think it's fabulous that they're using a 70-year-old woman to sell products to other 60 to 80-year-old women." When she was asked about retouching her image, Helen said: "L'Oreal UK don't retouch images of me unless maybe there's a hair out of place or a bra strap showing, which was music to my ears."
Saying that they don't retouch her image can't, however, be used for the movie studios that promote the films that she stars in. Many times Helen has seen her picture with the wrinkles removed and her jawline adjusted. She simply shrugs it off saying "That's their business, of course – they're advertising the movie. But I look at it and think. 'I don't look like that in real life – and certainly not in the movie.'"
It has been reported in the past that Helen has a "no retouching" policy for any pictures of her in magazines or film. She clears up that report by saying "Contrary to what everyone says, I don't not allow retouching. I'm very laissez-faire about it all. But when I was offered the gig to be an ambassador for L'Oreal, which was very exciting, I said 'please don't retouch me.'"
On the topic of touching, there is some touching that Helen insists is amazing "In LA I also like to have a Korean Bath, where you get scrubbed from top to bottom by these fierce Korean ladies – and you honestly come out there feeling 5lbs lighter."
After sporting a pink hairdo for the recent BAFTA awards, it has got her thinking about other colours that she could try for her famous hair. "I'm tempted to dye my hair violet. My 'pink hair moment' got lots of attention! I was inspired while watching America's Next Top Model: There was this girl who suddenly had bright pink hair for one episode and then in the next it was gone – so I thought, 'Oh – I can dye it bright pink, and it's not forever.'"
Could Helen be rocking the muti-coloured hair soon? If she did, she would make it as classy as she is.
What do you think about her new L'Oreal campaign? Do you think it's disrespectful for studios to retouch her image on posters?
Comments