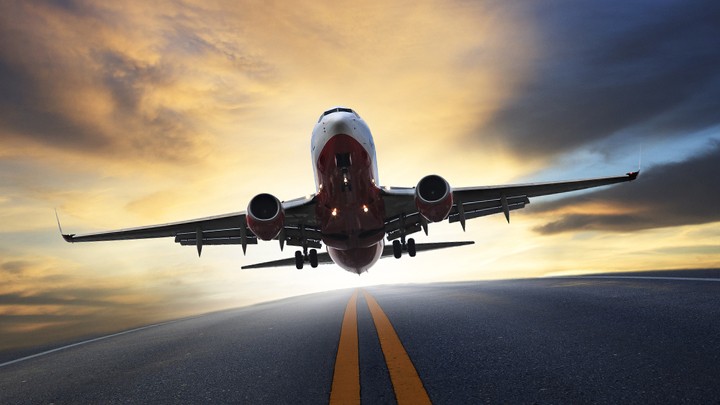 Most of us – even those of us who enjoy flying and do it often – have a horror story or two to share. Is this one you can relate to?
According to The New Daily, a four-hour trip turned into a 30-hour experience full of turbulence, unplanned detours and stopovers… and passengers were not compensated.
Lauren Karasek, a passenger on board the US Delta Air Lines flight, has been struggling to seek reimbursement for the journey, which had multiple passengers feeling sick. One flyer described as so turbulent it "felt the plane was going to break in half"; another, like "a blender".
Thanks to high winds and snow, the plane was unable to land at JFK airport, instead diverting to Manchester where it had to be de-iced. The following day it made two extra attempts to land, only for fierce 96kmh winds to shake the plane.
Ms Karashek found herself out of pocket for a hotel room and train tickets as a result of the delay.
While Delta offered frequent flyer points and vouchers, she felt this was poor compensation given the additional expenses the ordeal had caused. Feeling unsatisfied with the airline's response, she made her conversation with the airline public on social media.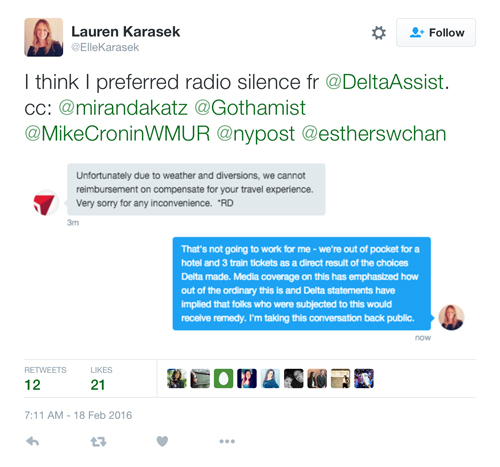 Consumer advocate Christopher Zinn told The New Daily that much the same thing would happen in Australia.
It would be a similar story if the flight had been in Australia, consumer advocate Christopher Zinn said.
"If [the delay is caused by] factors outside of their control, like weather, then they are less likely to make accommodations and while they will certainly try to help people, they are less liable," he said.
"The airline might be very sorry and apologise, but they might not be prepared or able to compensate you for [delays]."
"It's not always straightforward what they will do. It depends if it is the airline's fault, a volcano, or an act of God".
"My rule of thumb would be if you are caught in a delay, do not assume they are going to pick up the tab for your additional expenses unless you get something official in writing from airline staff."
Mr Zinn suggests familiarising yourself with the terms and conditions of your favourite airline, as well as "slowing down" to allow more room for inconvenience (and therefore less potential for expense).
"We don't factor in, what my dad used to call, 'puncture time' when you go on trips," he said, "so if you have a puncture you actually have time to fix it and still get there".
"Leave plenty of time for connections, get to the airport well on time so you don't miss some of the lockouts that happen … get travel insurance [when going overseas], which includes provisions for delays.
"Do not keep it too tight … because if there is a delay you can lose the purpose for being there."
Should an airline compensate for the inconvenience of flight delays? And what's the worst flight experience you've ever had?
Comments