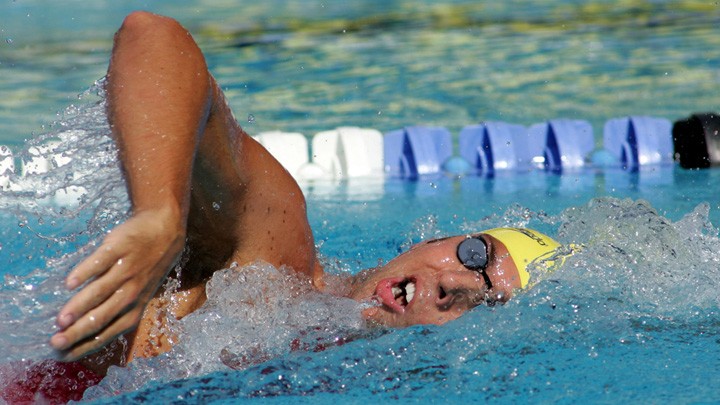 Sporting heroes used to set an example for kids and adults alike but now we're seeing headlines for the wrong reason.
There's already been a number of issues or scandals in Australian sport in the last few months that come to mind, which truly takes away the focus from the game. Not only are there doping scandals going around, there's allegations of sexual abuse, assault and many more, which in turn tarnishes the good name of Australian sport.
This weekend, Olympic swimmer Grant Hackett was escorted off a flight when he had an altercation with a fellow passenger. The man said he was groped by Hackett and pictures surfaced of the passed-out swimmer in a wheelchair.
Overnight Hackett has apologised for the incident but it's not the first time the hot-headed Olympian has been in the media. In 2011, police were called to he and ex-wife Candice Alley's home after an argument in which he tore the apartment apart.
Then in 2013, the gold medallist was photographed wearing only a singlet and shorts in a casino foyer, explaining later that he thought he had lost his son, Jagger.
In a statement, Hackett said he "seriously and genuinely" regretted his "poor behaviour", reports the ABC.
"I have stuffed up more than once and am working on these issues," he said.
"It is embarrassing to hear and read the consequences of my actions.
"I apologise unreservedly to the gentleman on the flight. I am trying to make direct contact with him personally."
Hackett said he knows he has to front the media to discuss his actions in a "more appropriate and accountable way."
"I just have to sort a few things first so I can be as frank and open as I need to be," he said.
"I apologise for the inconvenience."
Hackett was questioned by Australian Federal Police officers at Melbourne Airport after the flight and was released without charge.
Swimming Australia have also spoken out about the incident and say they are "extremely disappointed" to hear about the incident.
"We have been in touch with Grant through his management team and with his family directly.
"Given Grant's recent experiences, we are concerned for Grant's welfare and believe that it is very important that we provide Grant with all the support we can provide to ensure his progress as a person remains on track".
Unfortunately it's not the first or last time we will see this sort of incident, or even a bit scandal in sport in general, which is a far cry from the days gone by where our sporting heroes were really that – heroes. children especially could look up to these men and women however now the game has changed.
Tell us, do you think Grant Hackett is truly remorseful? Should there be a major shakeup in Australian sport after so many embarrassing incidents?
Comments