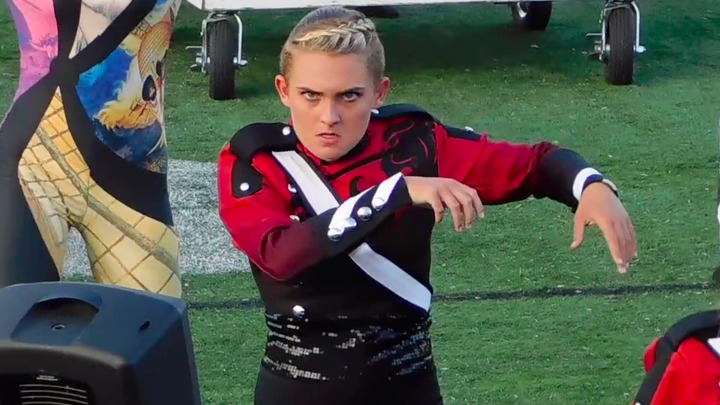 There are few things that can pump you up or have you lose control quite like music, and a young women from the Boston Crusaders Drum and Bugle Corps has become an online sensation for showing us exactly how it's done.
The clip shows the woman in her red and black uniform standing behind her large keyboard set up and you can see there are additional marchers and performers around her.
Giving a seriously intense keyboard performance, the young woman looked as though she had been possessed as she bashes the keys on her instrument and pulls all manner of bizarre facial expressions.
She furrows her brow with vigour before launching into the strange facial expressions, each made in time with the music.
Occasionally she bares her teeth and demonstrates a ferocity unlike anything ever seen before. She also tilts her head back and opens her eyes wide as if her body has been taken over by some sort of demon.
While it is not entirely clear that this is all part of the performance — performers around her demonstrate similar expressions of enthusiasm — no one is quite as entertaining as this young woman. If it turns out it was all for show then the keyboardist certainly played her part convincingly.
Have you ever performed in front of a large audience? What has caused you to be so overcome with emotion you have responded with your actions?
Comments