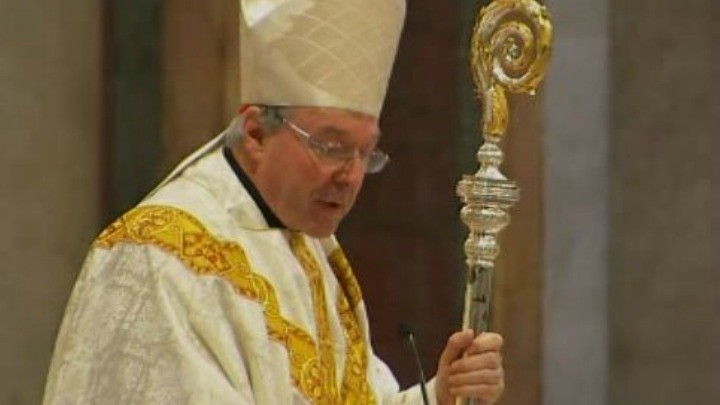 Cardinal George Pell will give evidence via a video link for the Royal Commission into Institutional Responses to Child Sexual Abuse after winning his bid to remain in Rome.
He will be questioned about his knowledge of sexual abuse by priests in the Victorian diocese of Ballarat, it was announced today, it what will be a great blow to abuse victims who have repeatedly said they want to come face-to-face with the Cardinal.
Cardinal Pell's lawyers have argued that he is too ill to travel long-distance.
Handing down the decision, commissioners wrote,
"The report confirms the evidence previously before the Royal Commission and indicates that Cardinal Pell is suffering from hypertension (for which he is being treated), ischemic heart disease, complicated by a previous myocardial infarction, cardiac dysfunction related to the arterial hypertension and previous ischemia and some other issues not of immediate relevance."
Cardinal Pell was examined by Professor Patrizio Polisca, the director of complex care emergency medicine at Tor Vergata University Teaching Hospital in Rome.
The professor said, "All the above mentioned functional and clinical changes have a negative synergistic effect with regard to your cardiovascular and respiratory functional capacity, in particular when going on a small walk on [sic] even slight physical exertion, when preparing to spend prolonged periods in a depressurised environment (airplane flight), with consequent relative haematic hypoxia and increase in blood pressure.
"Due to that outlined above, the undertaking of a long journey could induce an episode of heart failure and were this to occur during a flight it would also be difficult to treat.
"In conclusion, the clinical problems which Your Eminence presents therefore make it difficult for you to undertake a flight to Australia, which could entail serious risks to Your health."
In regards to these findings, the commission published the following reasons for its decision to allow him to be questioned via video link:
"Although people with the conditions that Cardinal Pell has may fly long distances it is apparent from the medical report that in the case of Cardinal Pell there is a risk to his health if he undertook such travel at the present time. Having regard to the nature of his ailments it could not be expected that his health is likely to improve and remove those risks. Although it would be preferable if he gave evidence in Australia, when the alternative that he give evidence by video link is available the Commissioners are satisfied that course should be adopted."
It was also noted that there will no longer be time for the Cardinal's appearance to take place during the Ballarat hearings so it will be postponed until Monday February 29 when the Commission will be sitting in Sydney.
Abuse victims such as David Ridsdale, who was abused by a convicted child sex offender and former priest – his uncle Gerald Ridsdale – previously expressed his outrage when it was first suggested the Cardinal would not face questioning in person.
"He needs to come and answer some questions, it's not that difficult. If I can make the flight… I would implore Cardinal Pell to come and face the music like all of us men have had to do for all these years."
Do you accept the Royal Commission's decision to allow Cardinal Pell to testify from Rome?
Comments