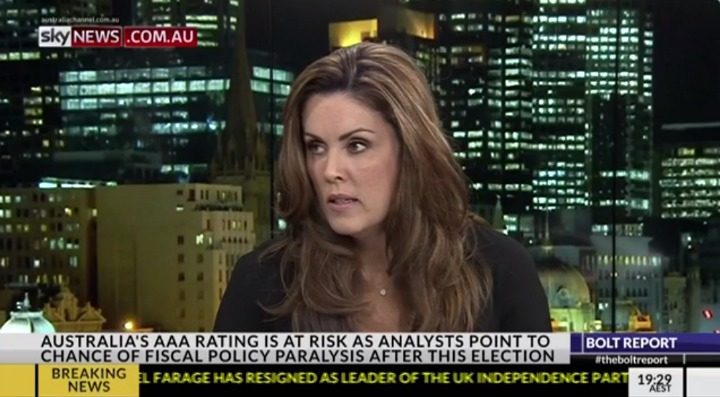 It looks like there's no love lost between Peta Credlin and Prime Minister Malcolm Turnbull, with the former Liberal staffer lashing out at the PM on television last night.
Ms Credlin was appearing on Andrew Bolt's show on Sky News as part as her role as the station political commentator when she launched her attack on the man who ousted her friend and former boss Tony Abbott.
In a heated segment, she accused Mr Turnbull of running a "lacklustre" campaign and "breaking the Liberal Party's heart".
She also said she felt vindicated after all the critism she copped as Mr Abbott's chief of staff when he was prime minister.
"At least he won an election," she said, having a dig at Mr Turnbull and the core group of supporters that plotted to oust Mr Abbott.
'Malcolm Turnbull, you're the man who broke the Liberal Party's heart': Peta Credlin #ausvotes #theboltreport https://t.co/t34PDBvDyH

— Sky News Australia (@SkyNewsAust) July 4, 2016
"I feel justified in putting this out there because, you know what? Everyone's had a crack at me and the advice I gave the prime minister – Tony Abbott – but at least he won an election," Ms Credlin said.
"Arthur Sinodinos, James McGrath, Scott Ryan – they're the ones that were at least in the Senate and kept their seats. Wyatt Roy, Peter Hendy – that collective brains-trust that sat there and undid Tony Abbott, I don't think have been giving the prime minister great advice."
While she championed Mr Abbott as a great campaigner, she conceded that he was not popular among voters and said it would be "pretty tough" for him to make a comeback as PM.
"He worked so hard for six years to get them in to a position of a landslide victory and seats and an agenda, and the only one really who had a plan for debt and deficit repair," she said.
Peta Credlin says the Coalition's 'wonderful victory' of 2013 has been 'squandered in a term of infighting' https://t.co/CmGWSLUcoq

— Sky News Australia (@SkyNewsAust) July 4, 2016
"Why would he do it? Because that hapless group of bedwetters are just as likely to see another couple of polls and say thanks Tony, but no thanks.
"That wonderful victory that they had in September 2013, where they had the faith and trust of the Australian people behind them, has been squandered in a term of infighting.
"We swore it would never happen to us, and it took us two years before we pulled ourselves apart.
"If the mainstream parties wonder why people are leaving them in droves, this is why."
What do you think about Peta Credlin's words? Is she onto something?
Comments