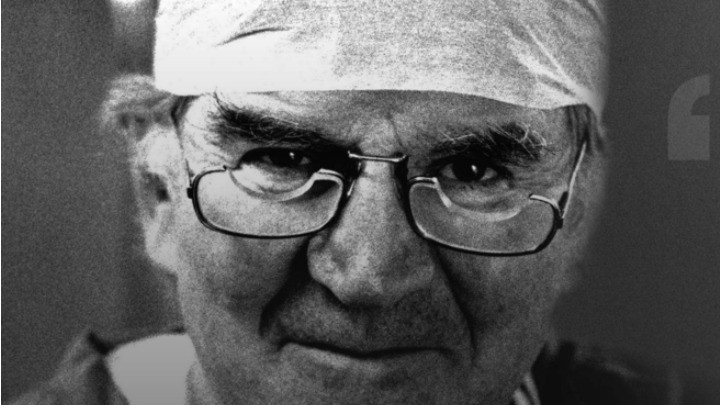 He is a national treasure and today Fred Hollows, the ophthalmologist who dedicated his life to treating curable blindness in Australia and in third-world countries, was honoured in a small, emotional service to mark 40 ears since he started the National Trachoma and Eye Health Program (NTEHP).
Gabi Hollows was wearing the same shirt she buried her husband in 23 years ago, SBS reports, as she led the heartfelt tribute by his grave in Bourke.
Around 50 people were present to hear Gabi reflect on Fred Hollows impact on the world. In his name and by his own hand, millions of surgeries have been completed in some of the world's poorest communities, curing trachoma, a condition more privileged people don't have to worry about.
In the final years of Fred's life, he worked tirelessly to open intraocular lens factories in Eritrea and Nepal. These lenses were vital in restoring sight to people undergoing cataract surgery. If made in Australia, they'd cost hundreds of dollars. However, Fred knew that if they were made locally, they'd become significantly more affordable. And he was right.
One year after he passed away, two laboratories were opened in his name: one in Asmara and one in Kathmandu. The lenses cost as little as $5 each and are as vital today as they were in Fred's time. To date, the laboratories have manufactured over 4 million lenses that are used locally and exported to more than 40 countries.
Gabi said, "The saddest thing for Fred is he was buried here before he ever got to hold an intraocular lens up that the labs produced," she said. "That would have been his triumph."
She toasted her husband's memory with a swig of whiskey, his favourite drink, before Bourke local Phillip Sullivan brought out his mother's first pair of glasses that Dr Hollows fitted to her after restoring her eyesight many years ago.
"He saw my mum, he saw a lot of my brothers and sisters, but today we're here to honour our brother," he said.
Fred Hollows is buried in Bourke with a very unique granite monument designed to look like an eye lens.
40 years after the #trachoma program, Fred's memory lives on. Family and friends remember in #Bourke today. pic.twitter.com/BF22ixJ32o

— Fred Hollows (@FredHollows) February 11, 2016
In January, a petition was launched called Put Fred on the Fiver, calling for Fred Hollows' face to replace the Queen on the five-dollar note. The campaign was supported by Ray Martin, Bob Hawke, Cathy Freeman and many other notable Australians. You can read the petition here.
How would you feel about Fred Hollows replacing the Queen on the five dollar banknote?
Comments