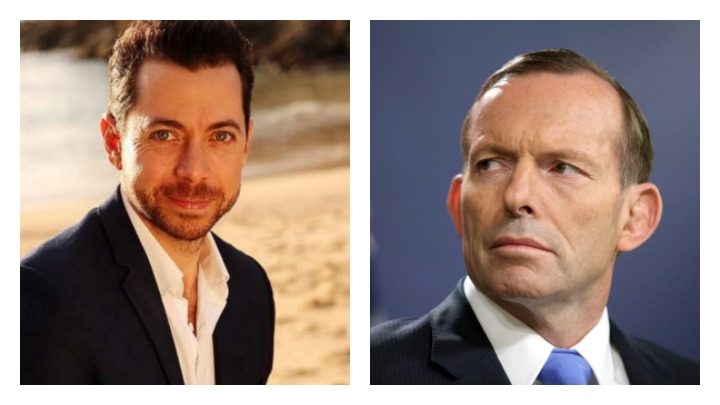 Channel Ten presenter James Mathison has made the surprising announcement that he will take on Tony Abbott in this years federal election.
You might remember James as the co-host of Ten's morning show 'Wake Up' and 'Australian Idol', along with his regular appearances on 'The Project' and other news programs.
Now though, James says he will try to knock Tony off his perch by running as an independent for the NSW seat of Warringah.
The move has surprised many people, with most having no idea that James had any political aspirations.
He has already found support from Tasmanian Senator Jacquie Lambie though, who told him to "go for it".
"I love independents. You go for it, James. Put those budgie smugglers on and give Tony Abbott a run," she told the Today show on Saturday.
James recently made headlines when he was carted away by police at a protest in Moore Park where he was trying to save Moreton Bay fig trees from being chopped down.
James Mathison is dragged away from tree #protest after trying to #savesydneystrees on #Anzac parade @photosSMH @smh pic.twitter.com/fnYLn9MduD

— Janie Barrett (@janie_barrett) May 2, 2016
He says he is going to run a campaign driven by social media and updated his Facebook and Twitter pages overnight with the message: "Warringah deserves better".
Tony has held the seat of Warringah for 22 years, but James is convinced people are ready for a change and that the former PM's conservative views don't match up with those held by many people who live in the area.
While some have questioned whether or not James is actually qualified to do the job, others have wished him luck.
"Sorry but is this a joke? Surly no one will take him seriously," wrote one skeptic on Facebook.
"James could run the country better than Tony," replied a fan.
Would you vote for James if he was running for a position in your area? Should we support campaigns like this, or do we need 'serious' politicians to run the country?
Comments