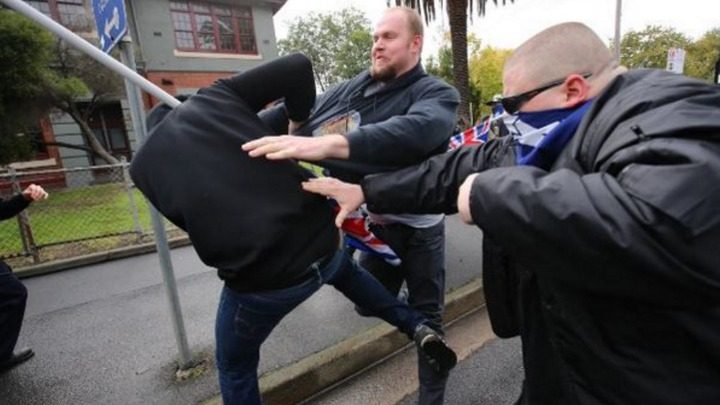 Five people have been arrested at a violent protest in Melbourne after anti-racism and anti-Islam groups clashed at a rally.
Police said two people were arrested for riotous behaviour, one for assaulting police and one for hindering police. Another was arrested for robbery.
Police were called to the scene this morning and forced to form line to separate the two groups as violence broke out between them.
Some officers were forced to resort to spraying people with capsicum foam when a fight broke out.
There are believed to be around 500 protesters at the site and there are fears some may be carrying weapons.
(Language warning for video)
Ugly scenes as protesters clash at Coburg anti-racism rally #Melbourne https://t.co/1GXGzupRCP pic.twitter.com/JxubLdhL1G

— The Times Times (@Timesolizer) May 28, 2016
Police have set up a checkpoint to sort through the belongings of the protestors.
Many of the protesters are hiding their identities by wearing masks and scarves over their faces.
Police separate protestors at anti-racism and counter rallies in #Coburg @SBSNews pic.twitter.com/BSmUd97t2p

— Sacha Payne (@sachapaynesbs) May 28, 2016
Plenty of cops in Coburg for the no to racism rally and counter demonstration. pic.twitter.com/h4twbzccyc

— James Dowling (@jameswdowling) May 27, 2016
The rally was meant to be a Say No to Racism event, but turned ugly when the anti-Islam group arrived.
Are you surprised to see protests like this in Australia? What are your thoughts on this kind of behaviour?
Comments