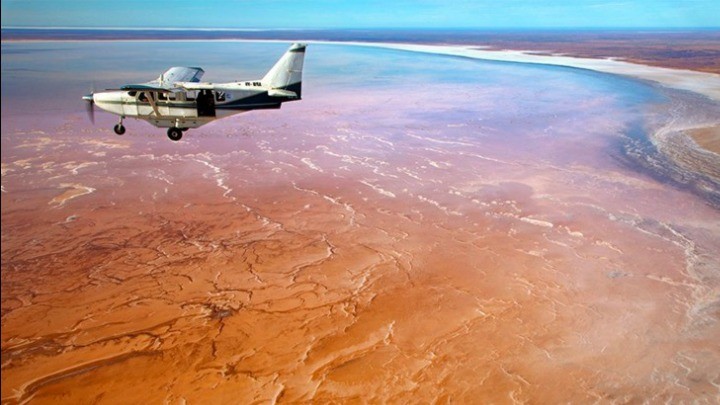 It only happens a few times every century, but Lake Eyre is filling fast, as these early pictures show.
The ABC reports that recent rainfall in South Australia's far north is already turning the dry and dusty plains green with vegetation, and it is a sight to behold.
Australia's interior has started to turn green, with flooding rains flowing to Lake Eyre https://t.co/vTNUTVsrP9 pic.twitter.com/dhnT1HxRCs

— AWA (@AustralianWater) January 4, 2016
The Bureau of Meteorology has flood watch alerts in place and parts of the Birdsville and Strzelecki Tracks are closed.
Todays (midday) satellite pic of Lake Eyre: dark blue=water, light blue=salt or cloud https://t.co/Jpn7t9QguZ pic.twitter.com/CPsVnpyHNu

— Andrew B Watkins (@windjunky) January 4, 2016
While there is a common perception that Australia's largest lake floods every year, it is actually extremely rare for it to fill right up. Marree Hotel publican Phil Turner said the last time Lake Eyre filled up was in 1974. However, the lake bed did receive 100 per cent coverage in the 2009 to 2010 deluge, according to the ABC.
Lake Eyre, South Australia pic.twitter.com/qS7XBOdz5Y

— Earth Pics (HD) (@EarthPixHD) January 4, 2016
"Since that flooding in 2009, whenever there has been water around, there has been a lot of attention, particularly media attention, in Lake Eyre," Mr Turner said. "If there was water in it all the time, it would just be another lake, but because the rain is few and far between it's got this sort of mystery or unique occurrence about it."
Outback rains putting water into Lake Eyre https://t.co/uwE5UvaP44 as hinted by Jan Outlook https://t.co/fJW0RkUEzm pic.twitter.com/2TZXcs642O

— Andrew B Watkins (@windjunky) January 4, 2016
The lake is officially known as as Kati Thanda–Lake Eyre, combining the indigenous name with its colonial name, which is in honour of Edward John Eyre, who was the first European to see it, in 1840.
For many Aussies, this rare sight is firmly on the bucket list – will you make the pilgrimage? Flights over the lake in bloom cost around $1000 dollars.
Would you like to see Lake Eyre when it fills? Is this on your bucket list?
Comments