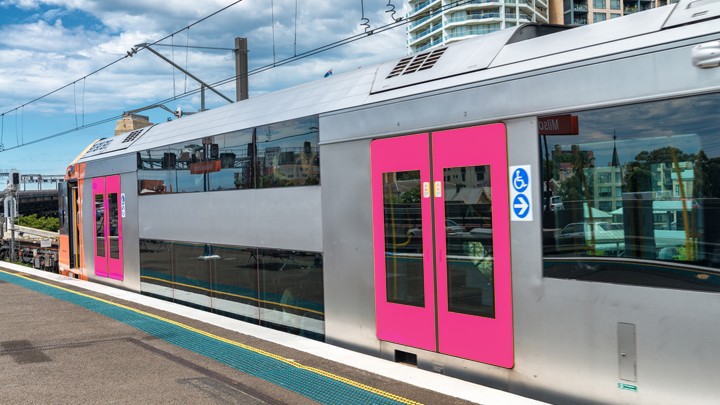 Although 26-year-old Stephanie Scott did not die on a train on 5th April 2015, the young woman did die at the hands of a man when she was simply living her life. Living her life much like millions of women around the world who catch public transport or leave work after hours and expect to get home safely.
On the anniversary of Stephanie's death, debate is being raised about pink women-only train carriages. The proposal for the female sections on trains was called for by Rail, Tram and Bus Union national secretary Bob Nanva who said, "We must do more to protect commuters from thugs, grubs and perverts on public transport".
Along with the pink carriages, Mr Nanva said the women-only carriage should carry panic buttons and cameras to reduce the sexual assaults on female commuters.
While the figures for sexual assaults are relatively low, the need for these carriages in this day and age has drawn debate on both sides.On one hand, the carriages would help women feel safer, especially if they finish work late or are unaccompanied. On the other hand, they send a message that women need to protect themselves against bad people, rather than focusing attention on the bad people who are assaulting women.A young woman spoke to the Daily Telegraph about the proposal and said, "I suspect if men are being drunk and obnoxious they ought to be stuck away in a separate carriage rather than limit women to the special carriage.

"I think we should lock up the potential perpetrators. Or keep them away from the women rather than the other way around.

"I get fairly wary of it being seen as we have to protect ourselves by excluding ourselves".

In Japan they now have pink carriages after women were being groped on the country's notoriously crowded services.

Earlier this morning on breakfast TV, male TV hosts particularly were outraged at the idea, with Today's Bed Fordham saying he felt "really weird" about women needing to board a different carriage to get away from people like him.

On Channel 7, Gretel Killeen gave her two cents and questioned, "Why on earth should women be the ones hurled into one carriage to be protected if men are the issue?"

"Let women have the space", she said, passionately.
It's an interesting debate. Where do you stand on it? Should there be pink carriages? Or should men be the ones who should have a blue carriage?
@theprojecttv Has the world has gone stark raving mad? 6 men & 6 women assaulted & we think pink carriages will solve the problem – please!

— DSH1971 (@halldamien7) April 5, 2016
How about carriages that anyone could ride, that had security guards or cops on them? #actuallysafer not just a pink illusion of safety

— Tee Cake (@teelinden) April 4, 2016
PINK Women-only carriages?! NO!!!! How about you teach people to stop assaulting women instead? @TheTodayShow

— GabyMae (@GabyMae_) April 4, 2016
Sydney Trains: Rail Union pushing for women only carriages after 8pm. https://t.co/6rm43QpgOj #SydneyTrains https://t.co/s5CFtBQF0L

— 7 News Sydney (@7NewsSydney) April 4, 2016
.@BenFordham shares his thoughts on women-only train carriages. #9Today https://t.co/wYPfud8mr8

— The Today Show (@TheTodayShow) April 5, 2016
Comments