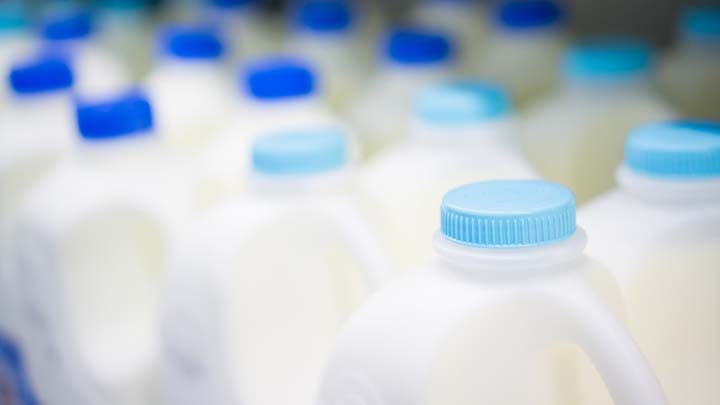 We've just gotten used to paying $1 a litre for our milk, but it's not something our farmers can ever be accustomed to. The prospect of lowering milk prices even more is threatening the livelihood of our farmers, and something needs to be done about it.
Desperate farmers have had a crisis meeting in Terang, Victoria overnight and agreed that a milk levy of 50c per litre could be a possibility to keep a roof over their heads.
SMH reports the idea was put forward after major dairy companies slashed the prices they pay for raw milk from farmers.
Farmers are also demanding the Turnbull government urgently intervene to address the situation that is threatening our dairy industry.
President of Farmer Power, Chris Gleeson said the proposed levy meant a typical consumer would spend an extra $50 on milk a year. "It would solve the crisis of the dairy industry and have food security for our nation", he said.
He said that while "nobody is happy about paying extra for groceries" he felt people would support a levy if they knew it supported Australian farmers. "They were paying $1.40 for milk 20 years ago," he told Fairfax Media. "Now milk is sold for bugger all compared to water".
The only other viable alternative was to create a "milk pool" to set an average price for producers.
"Something has to change in this industry. We've got to cover costs of production, Mr Glesson said.
"The only way we're going to survive is if we get a higher return on [our] investment".
The president wants Deputy Prime Minister and Agriculture Minister Barnaby Joyce to step in and launch a review into the damaged industry.
"He's got to give hope to these farmers," Mr Gleeson said, and it's already on the cards: a spokesman for Mr Joyce said the minister would be heading to Victoria next week to speak with farmers and industry representatives.
Tell us, would you be OK with paying 50c extra on your milk if it went towards farmers? Or should the Government make changes elsewhere?
Comments