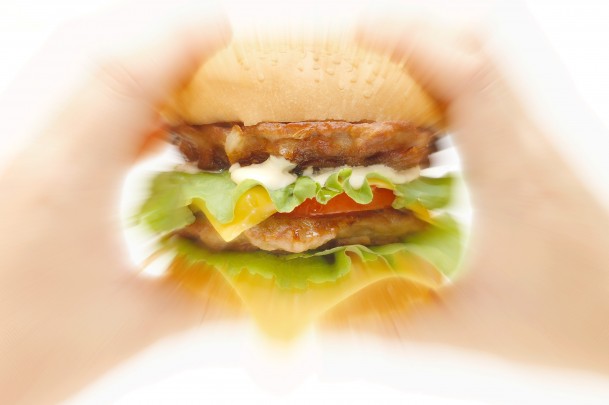 Carl's Jr is the controversial new burger chain planning to takeover Australian fast-food. The American brand is known for its raunchy ads and high-calorie menus, but many people insist they'd rather eat at local fish and chip shops.
There are plans to open 300 Carl's Jr stores across Australia over the next decade, with the first store opening in New South Wales this week.
Carl's Jr is famous for its Steakhouse Thickburger, but the menu also boasts crumbed chicken, fried fish, burritos, milkshakes and limitless soft drink refills.
Ned Lyerly, the president of Carl's Jr international operations, believes the chain will be able to compete with McDonalds and Hungry Jacks in Australia.
"It's a $16 billion market today and will continue to grow, so I think the market itself is large enough to sustain that sort of operation", he said.
Three hundred Carl's Jr stores will compete with 900 exisiting McDonalds stores, and a further 390 Hungry Jacks outlets.
"We've done extensive research ourselves. We compete favourably with all (takeaway stores) and believe with the right partners, that those numbers are meetable".
Burgers will cost more at Carl's Jr, when compared to McDonalds, but will still be cheaper than "premium" burger restaurants such as Grill'd and Burger Edge.
Carl's Jr has previously been critcised for its rauchy TV commercials, which reguarly feature bikini clad women. The chain is unapologetic though, saying that young men make up many of its customers.
The chain is also not sorry for offering high-calorie food, even in 2016 when there are concerns about obesity and maintaining healthy populations.
"It's our job to offer customers what they want to eat, whether they're looking for something high-quality, delicious and innovative, or if they want something more healthy, we have that as well", Mr Lyerly insists.
Not everybody is convinced though. On a recent news poll, more than 34% of people said they preferred the takeaway food from their local fish and chip shop.
Whilst a further 12% reported still loving those old-fashioned milkbars. McDonalds, Hungry Jacks and KFC rated last on this poll.
Will you be giving Carl's Jr a try? Or do you think Australians already have enough takeaway food on offer? Do you prefer your local fish and chip shop, rather than American chains?
Comments