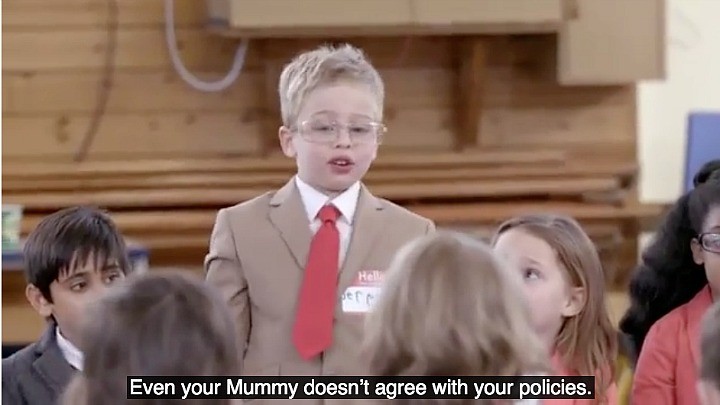 With an election just around the corner, British politicians are gearing up for a hard slog at the polls and that means rolling their advertising campaigns to get voters on their side.
While we're used to seeing loud, flashy ads about the oppositions failings with garish graphics and dodgy photographs, one political party in the UK has taken a different approach this time.
The Green Party of England and Wales got a group of children to act out a game of politics to go along with the party's campaign slogan 'Tired of Playground Politics?'.
The hilarious video shows a group of kids in the playground as they try to run their government the best way they know how.
The children each play a prominent politician, with Prime Minister David Cameron and Lord Mayor Boris Johnson appearing as 5-year-old boys.
The kids fight over whose house is bigger and write 'kick me' signs on each others' backs.
While the ad sticks to British politicians we can only imagine what an Australian version would look like!
With the ups and downs Australian politics has been through over the past few years, there's surely enough material to make a feature length movie!
Take a look at the ad below and tell us if it gives you a laugh and share it if you'd like to see an Australian version.
#GrownUpPolitics – Green Party 2016 Party Election Broadcast

Our Election Broadcast is here, demonstrating how Greens do politics – and election broadcasts – differently. Tired of playground politics? We're the only party that offers a true alternative to the business-as-usual and believes in an economy that gives everyone their fair share. If you think it's time for #GrownUpPolitics then SHARE this video and vote Green on 5th May. #VoteGreen2016

Posted by Green Party of England and Wales on Wednesday, April 6, 2016
What do you think about this political ad? Did it give you a laugh?
Comments