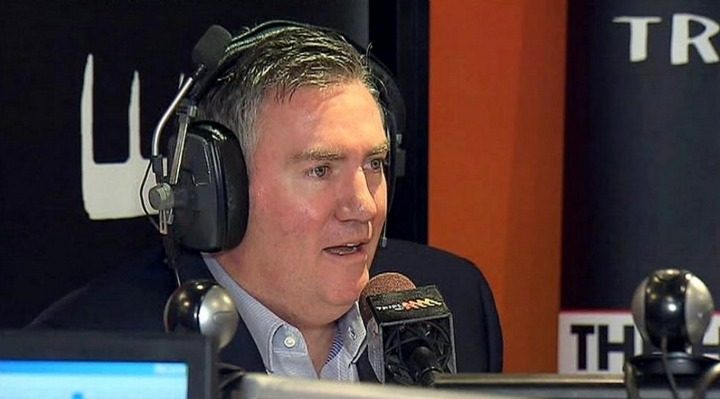 He's no stranger to controversial comments and it looks like Eddie McGuire has gone and done it again.
The Collingwood Football Club president was hosting his radio show when he made a "joke" about drowning sports reporter Caroline Wilson with his colleagues.
According to McGuire though, it was all just for a laugh.
McGuire was chatting with North Melbourne club chair James Brayshaw, Wayne Carey and Danny Frawley, when he made the comment about drowning Caroline at a charity event called the Big Freeze at the 'G, an event where celebrities plunge into ice to raise money for MND.
This is how it went down.
McGuire: "In fact I reckon we should start the campaign for a one-person slide next year. Caroline Wilson. And I'll put in 10 grand straight away – make it 20. [laughter] And if she stays under, 50. [louder laughter] What do you reckon guys? Who else is up there? I know you're in JB?"
James Brayshaw: "No, yep, Straight in."
Danny Frawley: "I'll be in amongst it Ed."
McGuire: "Is Duck there?"
Wayne Carey: "Yes, I'm here mate."
[and later]
Frawley: "I'll actually jump in and make sure she doesn't — I'll hold her under, Ed."
McGuire: "I reckon we could charge 10,000 for everyone to stand around the outside and bomb her."
Damien Barrett: "I'm on Caro's side now, Ed. I'm on Caro's side these days, Ed." [indecipherable]
McGuire: "She'll burn you like everyone else, mate. She's like the black widow. She just sucks you in and gets you and you start talking to her and then bang! She gets you."
And then McGuire ends: "It'll be magnificent. I think we should do that next year. It's all good for footy."
The joke has left many people disgusted and has prompted calls for McGuire to be sacked from his radio gig and his position as Club President.
However, others are saying it is just the PC brigade making a fuss about nothing again and that McGuire was clearly joking.
What are your thoughts?
Was Eddie McGuire out of line with this joke? Or are we being too sensitive about it?
Comments