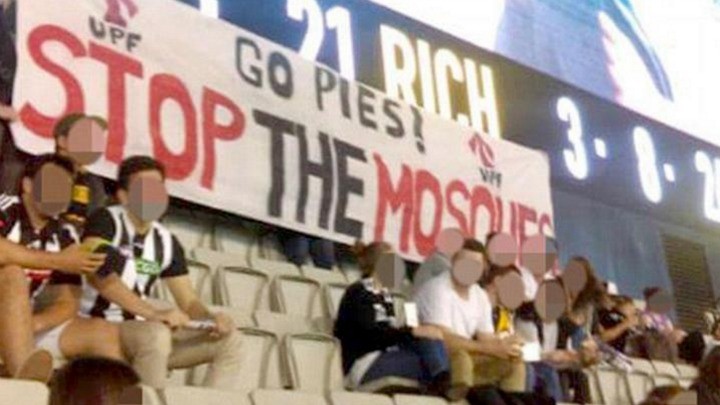 A group of AFL fans are facing a lifetime ban from the Collingwood football club after unfurling an anti-muslim banner at a game last night.
The AFL says it is conducting an investigation into the fans who made the banner, which read: "go Pies, stop the mosques".
The banner was created by far-right political group United Patriots Front and was strung up directly under the scoreboard for all to see.
Collingwood president Eddie McGuire said he was gunning for a lifetime ban for those involved in the incident.
"I hope the police got their names and numbers, if they've got anything to do with our club they'll be banned," McGuire said.
"Get these people and make an example of them. They should be banned for life."
The AFL released a statement saying there is "no place in society" for that kind of behaviour and said they evicted the group as soon as they realised what was going on.
The incident has caused mixed reaction from others though, some of whom say it was just an act of freedom of speech.
"At the most Eddie can say "there is no place for political banners at the footy". Where does he get off telling us there is no place for that specific opinion in society!?," argued one commenter.
"Just because we have an opinion on what our country should be doesn't mean we are racist! It's our opinion," quipped another.
While other commenters sided with the AFL and McGuire.
"People referring to freedom of speech… Pull your head in," replied one commenter.
Do you think the banner should be allowed under freedom of speech? Or is the banner racist?
Comments