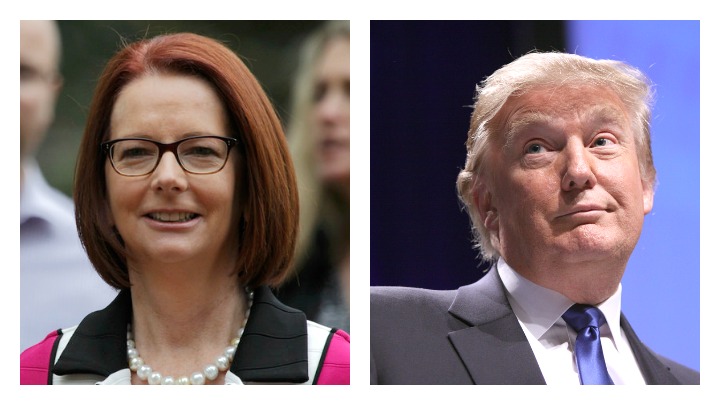 Remember when the Liberal Party hosted a fundraiser dinner where they had a menu item rudely dedicated to Julia Gillard?
Well it looks like Donald Trump's supporters have latched onto the crudely worded slogan and used it to poke fun at presidential candidate Hillary Clinton.
The slogan first made an appearance in 2013 when Julia Gillard was still PM.
Liberal Party supporters were reportedly delighted when they sat down to peruse the menu and found an item called Moroccan Quail, which was described as "Julia Gillard Kentucky Fried Quail – Small Breasts, Huge Thighs & A Big Red Box".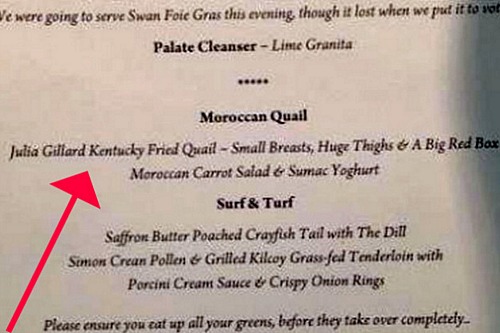 Someone at the dinner leaked a photo of the menu to the media and all hell broke lose.
It seems news of the slogan reached America and now Trump's republican supporters are using the same words to describe his rival Hillary.
An image flashed up on screen during the MSNBC television broadcast showing a board filled with badges.
One of them read: "KFC Hillary Special – Two fat thighs, two small breasts … Left wing."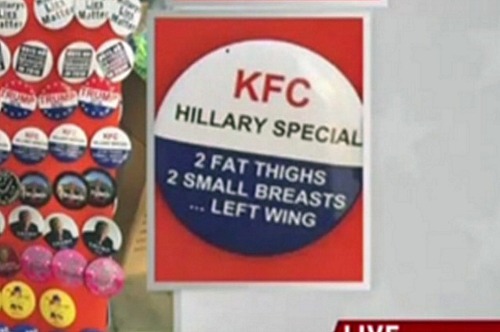 While Trump's supporters roared with laughter, many were left disgusted that Hillary was being described like that.
There was a similar reaction in Australia when the picture of the menu emerged, with many calling on Tony Abbott, who was opposition leader at the time, to condemn it, which he did not.
The abuse begs the question: will female leaders always be subjected to crude remarks about their looks and bodies?
Is it unfair for female leaders to be targeted in this way? Do you think it is harder for females to be in leadership positions?
Comments