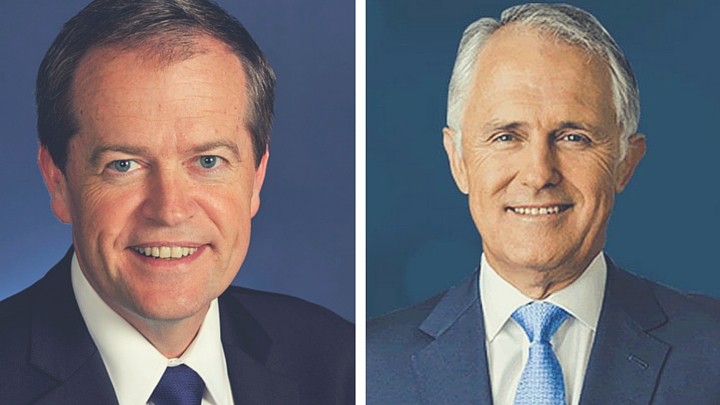 At first glance (and second, and third) it might look like the Labor party isn't going so well heading into an election year. Despite all the grumblings about the government on the grounds of tax reform, health-care cuts, and scandals such as the Peter Slipper-Mal Brough affair, the latest polls have the Coalition at a record lead over the Opposition.
Bill Shorten's approval rating is low at 14 per cent – but it's not the lowest we've ever seen. The Liberal's Brendan Nelson holds than dubious honour, plummeting to 7 per cent at his lowest ebb.
So the question is: does Mr Shorten think he can actually win an election? And crucially, does his party?
Paula Matthewson, a former media adviser to John Howard, thinks he might just have a chance. And she believes the same thing that has earned Malcolm Turnbull his support – his silver tongue – could be the prime minister's undoing.
"The PM's propensity to somewhat patronisingly over-explain has led to the term "Malsplaining" being coined in political circles, to sardonically describe the PM's inclination to talk his way out of sticky situations," writes Ms Matthewson in The New Daily.
She points out that, having survived the "charm offensive", Labor continues to hold favour among the young er generations, and can, at this stage, "sustain a primary vote in the low 30s, which after the allocation of preferences still gives it a fighting chance".
For now, it seems as if Shorten has no plans to step aside for the good of the party, although The Australian reports that ­Anthony Albanese, having all-but secured a seat in Barton, is the "likely to be a frontrunner to become the next Labor leader if Bill Shorten fails to win next year's election".
In the same report, NSW Labor factional player Matt Thistlethwaite stressed that Mr Albanese posed no threat to Mr Shorten's leadership.
One way Mr Shorten has been trying to win favour with the public is by making the most of social media, following the lead of Mr "Selfie Turnbull.
Joining tens of thousands of Australians marching tonight for real action on climate change pic.twitter.com/jDmk8oKZfF

— Bill Shorten (@billshortenmp) November 27, 2015
Happy Birthday @tanya_plibersek – a wonderful deputy, a passionate Labor person & a great friend. pic.twitter.com/tm0l3qsn45 — Bill Shorten (@billshortenmp) December 2, 2015
Happy Birthday Hawkie! pic.twitter.com/qQCC0SRLtZ

— Bill Shorten (@billshortenmp) December 9, 2015
Do you think Bill Shorten stands a chance in next year's election? Should he step down?
Comments