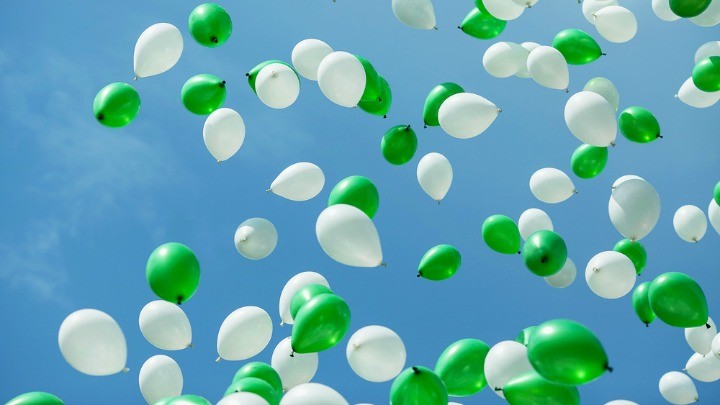 A community mourned the loss of a 14-year-old boy who was knocked down by a car as he rode tandem on a scooter with this mate over the weekend, gathering for a candle-light vigil, and releasing "a sea of blue balloons" into the air.
But while Michael Hannon's death is a great tragedy and should be recognised as such, concerns have been raised over how his friends and family chose to honour him.
Sydney community farewells teen struck and killed by car."It's good to see the support from everyone, and everyone coming together." A south-west Sydney community has held a vigil overnight for 14-year-old Michael Hannon who was tragically struck and killed by a car at the weekend, letting a sea of blue balloons float into the sky. #Today9

Posted by TODAY on Sunday, January 24, 2016
When Today shared this broadcast this morning, the first comment addressed the concerns:
"Not trying to be a Debbie downer, but setting balloons off like that is not good for birds, planes, ozone and wildlife."
Many others agreed:
"A shame this young person died. can i make a suggestion that instead of releasing balloons in the sky, can we release something else like butterflies or something or maybe not release anything at all. the balloons have to come down sometime and litter the environment affecting the animals."
"How are we still so uneducated to think that letting hundreds of balloons into the air was good for anything. This story is a real tragedy, but those balloons are probably going to end up in our ocean and kill lots of our wildlife."
"I thought it was illegal to litter ? But unless your (sic) mourning it's ok to release hundreds of balloons in the sky to certainly course an impact on wildlife and environment? It was sad news about the boy's death, but today's day and age it's embarrassing to think that people think this is a good idea."
If you've ever been to a market, fair or other community event with your grandchildren, you'll know that everyone with something to promote will offer your little person a helium balloon. How many of these end up accidentally being released into the sky and then falling into our waterways?
Do you think mass releasing helium balloons is acceptable, or should the practice be banned?
Comments