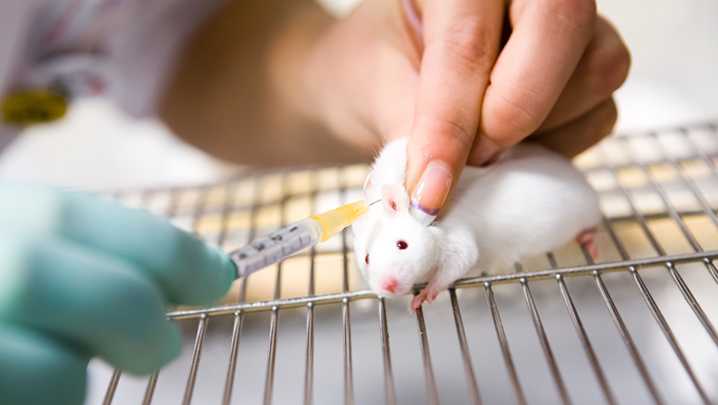 Government reports have revealed that we are using in excess of six million animals in Australia each year for testing of medical research, practice of surgical skills and experiments.  The numbers come from official figures released across the states, which show these numbers to include over 6000 dogs and 1500 cats, and even some exotic zoo animals all used as subjects in experiments that cause "minor pain".
The numbers of animals in use must raise some questions with 2,699,532 animals used in NSW and 1,084,597 in Victoria in the last year. Humane Research Australia has compiled the data from various state government reports.
We all remember back to the 80s when Stop Animal Testing became a catchcry strong enough to launch brands like "The Body Shop" and even drive the Australian Senate to pass a cross-party motion in support of ending animal testing of cosmetics, co-sponsored by representatives from the Liberals, Greens, Labor, Nationals, Palmer United Party, and Independents. This was followed by a similar cross-party motion moved in the House of Representatives by Government MP Jason Wood in September last year. Now it's time for action, say animal protection groups.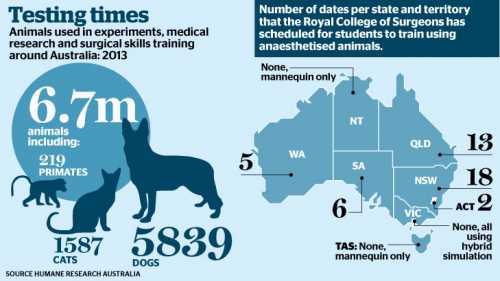 But the testing of medical experiments is a different issue and is growing in its concern.   Even the National Health and Medical Research Council (NHMRC) is said to be reviewing its policy right now on the care and use of non-human primates for scientific purposes.
Professor Anne Kelso, told the ABC "we are not yet at a point where all medical research can be done entirely outside an animal".
The fact that there was 25,000 animals subject to an experiment with "death as an endpoint", where the animal is forced to suffer and is not euthanised must be considered and thought through deeply though.  The data shows that across Australia, 123,975 animals were left to remain conscious through a "major physiological challenge", an event or experiment which causes "moderate or large degree of pain/distress, which is not quickly or effectively alleviated".
The Sydney Morning Herald asked Dr Denise Russell, a research fellow at the University of Wollongong specialising in animals and ethics about the scrutiny on experimental projects which she says is lacking.
"The ethical scrutiny for research comes at the end of a long process of grant application and approval. There is then an incentive for the animal ethics committees to simply accept the proposals. (If they don't institutions are denied that funding.) The scientists on animal ethics committees are required to be from areas using animal research and can't be expected to have good knowledge of alternatives," she said.
Dr Russell said raised concern by saying that experiments done are not always to get a cure for human disease.
"There's often hype about a new drug then nothing eventuates. All this suggests we are looking in the wrong place and alternatives should be investigated. Also the fact that there is poor transferability from animal to human studies suggests using animals to find out about humans is misguided."
Do you find the scale of animals being used in medical testing and experiments confronting?  Or are you in fact pleased to see medical research just getting on with it?  Where do you sit on this controversial issue?
Comments