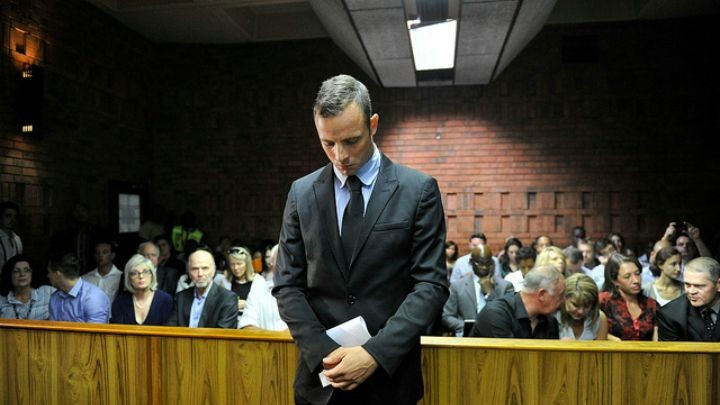 The world grieved together after news broke that model Reeva Steenkamp was brutally killed by her lover, 29-year-old Paralympic gold medallist, Oscar Pistorius.
While witnesses say that Pistorius has shown no remorse, a psychologist has told a court in South Africa, that Oscar Pistorius is a "broken" man who should not be jailed for the murder.
The "Blade Runner" faces a minimum 15-year jail term after his manslaughter conviction for the 2013 killing was upgraded on appeal, reports ABC.
Jonathan Scholtz, a psychologist called by Pistorius' lawyer Barry Roux, told the sentencing hearing that the athlete was on medication for depression, anxiety and insomnia and that he was not in the right frame of mind to testify
"One would describe him as broken. In my opinion his current condition warrants hospitalisation," Mr Scholtz said.
"Since 2013, he becomes traumatised when he hears the sound of gunfire.
"He never wants to touch a firearm again."
But prosecutor Gerrie Nel questioned Mr Scholtz's assertion that if Pistorius was not fit to testify, how was he able to give a TV interview?
Mr Nel told the court Pistorius had shown no remorse for the murder, and that he only "feels sorry for himself".
His "true colours" might have also surfaced while he was in jail, he had once banged a table when he got upset with a nurse but his psychologist said Pistorius may have acted violently only because he was adapting to prison life and was affected by medication.
"Why would you select only positive views for your report. I find that in your report you are biased towards the accused," said Mr Nel.
Some people say that it is obvious that the psychologist is doing everything he can to get Pistorius out even it if means portraying Pistorius as the victim of the situation.
The psychologist claimed that Pistorius was traumatised after he saw a prisoner hang himself, but Mr Nel disputed that saying it was unlikely that he could have seen the victim.
He also said that Pistorius had been assaulted once in jail but Mr Nel also rejected this, saying no report of such an incident existed in the register.
Luvuyo Mfaku, a spokesman for the National Prosecuting Authority, said its position was "to argue for the prescribed sentence to be imposed, that is 15 years".
Some rights groups have said that the athlete has received preferential treatment and there is fear that he will not face the punishment he deserves.
Do you think Oscar Pistorius deserves harsh punishment?
Comments