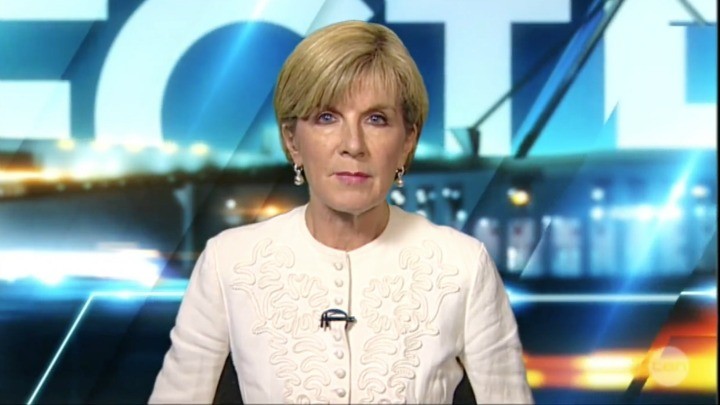 With Malcolm Turnbull away and the foreign minister left at home to put out any fires he starts while at the Paris climate talks, Julie Bishop was looking tired last night as she appeared on The Project, defending the government's decision to use foreign aid money to fund climate change mitigation.
But it doesn't look like her week is going to get any better, with reports emerging late last night that she allegedly "did a Bronwyn" and chartered a $30,000 flight at taxpayers' expense.
The Daily Telegraph has obtained documents showing that a nine-seater RAAF jet flew from Canberra to Perth to pick the foreign minister and her partner David Panton up from a charity dinner, then back again so Ms Bishop could make ministerial meetings at 7am the next day.
The Telegraph reports: "The nine-seater jet flew across the nation empty on October 17. The jet then left Perth bound for Canberra, with Ms Bishop and Mr Panton aboard, at 11pm the next evening, before arriving in Canberra at 5.50am on October 19."
Ms Bishop and Mr Panton were the only people on the flight, which is believed to have cost $30,000, reports the News Limited paper.
Ms Bishop said she used the jet because there were no commercial flights that ran after her function ended.
She was representing Prime Minister Malcolm Turnbull at a private­ dinner for WA Telethon donors, having starred in the telethon and completing her official duties the day before.
The Daily Telegraph reports that Ms Bishop should have cancelled her evening function if she couldn't get back in time for her duties.
Ms Bishop will no doubt remember the furore over Bronwyn Bishop's helicopter flight, although that was compounded by the fact that the then Speaker refused to apologise.
At the time, there was a lot of talk about the end of entitlements and MPs not acting above the purse strings – it will be interesting to see how Ms Bishop, and the new Prime Minister, respond.
Are you surprised that Julie Bishop would take a charter flight after everything that happened with Bronwyn Bishop? Do you think she will face repercussions?
Comments