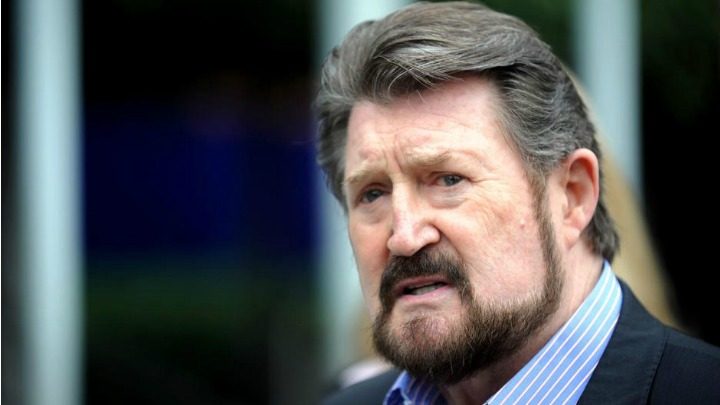 He is known for breaking the rules and speaking his mind – no matter what the consequences – and now radio host Derryn Hinch has announced he is stepping into the political arena.
The 'shock jock' has created his own party called Derryn Hinch's Justice Party and has warned that if he gets in, he won't be giving anyone in government an easy go.
"Whoever gets in the lower house won't have an easy run (if I'm in)," Mr Hinch told the Seven Network on Sunday night.
In a similar vein to Clive Palmer, Mr Hinch has had enormous success in his own right and a few highly publicised dramas along the way.
He has been to jail a number of times for revealing the criminal history of convicted sex offenders before the courts allowed and has gained a reputation for his tenacious interview style.
And just like Mr Palmer he now believes he can make a difference his politics.
So what can you expect from Mr Hinch's party?
He says he supports the death penalty and wants to see a national public register of sex offenders, parole and bail reform, and changes to how seriously courts treat domestic violence.
Mr Hinch says he changed his mind about the death penalty after hearing about the brutal details of Anita Cobby's murder in 1986.
He has refused, however, to say who he backs has prime minister out of Malcolm Turnbull and Bill Shorten, saying he wants to stay out of it.
"I'm not going to say who should be running the country," he said.
While many of his political ideas have been named extreme, it's his support of the death penalty that has really divided people.
The practice received huge backlash here at home when Australians Andrew Chan and Myuran Sukumaran were shot by firing line in Indonesia for a drug conviction, but Mr Hinch says we should have the same consequences for serious sex offenders here.
Mr Hinch needs at least four per cent of the vote if he is to win a place in the Senate.
Would you vote for Derryn Hinch's party? Do you support his policy ideas?
Comments