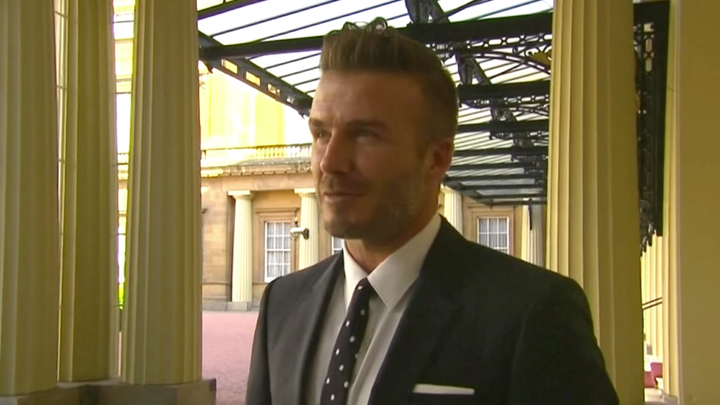 When one has played some of the greatest soccer games in history, you wouldn't think that sporting icon, and father-of-four, David Beckham admitted that meeting The Queen gave him "goosebumps". Just when you thought he couldn't get any more adorable, he does.
The former English football captain joined former Prime Minister Sir Jon Major, and comedian Sir Lenny Henry, at The Queen's Young Leaders Awards. Also in attendance for the event was a very dashing Prince Harry, who sat with his beautiful cousins Princesses Beatrice and Eugenie.
For Beckham it was a very surreal occasion, he told the UK's Daily Mail "Just being here; it gives me goosebumps just driving through the gate. I've been here a couple of times now and every time it is very special. After the school pick up today I was talking to Harper, and I was like 'I'm going to see the Queen.' She was like, 'okay but do you think she will be drinking tea.' So she was very inquisitive. I am so proud to be here".
While one can only wonder what The Queen thought of meeting the very handsome Beckham, there was a twinkle in that smile that anyone would have when meeting him it was Beckham that was giddy over The Queen. Beckham said "The excitement in the palace was incredible, and it's amazing they get to meet Her Majesty and the chance to experience something like this".
So it looks like Prince Philip doesn't have to worry about the competition just yet. It does show you that no matter how big of a celebrity you are there is always one person that will leave your star struck.
If you had the chance to meet The Queen what is something you would like to ask her? Would you rather meet David Beckham?
Comments