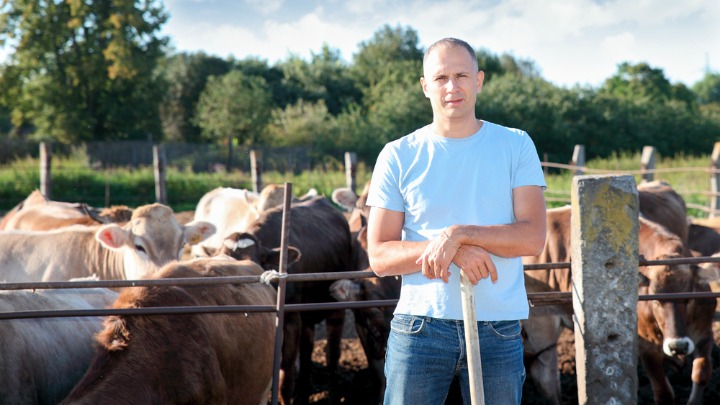 Only a few months after dairy farmers around the country were handed a lifeline, they have been dealt another bad hand by the corporation responsible for slashing their profits.
Dairy farmers have been struggling to make ends meet and to take home a profit thanks to huge price cuts by Murray Goulburn.
Earlier this year the corporation was slammed for ripping off farmers, which led the government to step in put up loan offers just so farmers could pay off their debts on time.
Now Murray Goulburn is at it again announcing they are slashing their milk prices even more.
They had already made cuts in April to between $4.75 and $5.00 per kilogram of milk solids, down from $5.60.
Now they have set their opening price for the 2016/17 season at $4.31, leaving farmers "gutted".
"This opening price is below the cost of production for many dairy farmers and we'll all need to pull together to get through the months ahead," United Dairyfarmers of Victoria president Adam Jenkins said on Tuesday.
"Dairy farmers are still carrying the weight of MG's poor management decisions that's led to the debt they're being forced to repay on the back of this low opening milk price."
Murray Goulburn said it hopes to pay dairy farmers $4.80 per kilogram over the upcoming season, with prices set to rise slightly from the opening price.
"This is a conservative price, and it's most likely that MG is erring on the side of caution, but it opens up the possibility of stepping up to a more reasonable price later in the season," Mr Jenkins said.
That slight glimmer of hope isn't enough to put farmers at ease though with many being forced into even more debt thanks to these new prices.
It's a topic that has infuriated people around the country, with many thinking and hoping this problem had been dealt with earlier in the year.
There was public outcry over the issue a few months ago, which led to the government eventually stepping in with the loans, now perhaps it's time for it to happen again.
Many are asking how we can expect our farmers to keep producing for us if they can't even make a living on the land…
Is it time for the power of the people to take action again?
There are calls for people to spread the message about these new price cuts and let pollies know if they are angry about the way dairy farmers are being treated.
Do you think dairy farmers are being ripped off? Should the government do more to help?
Comments