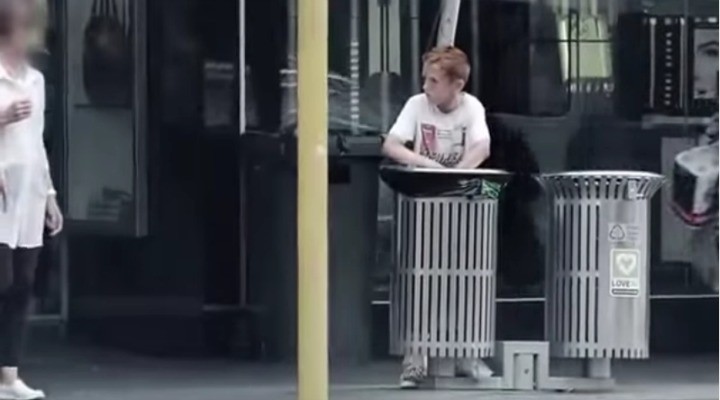 Police officers in New Zealand have taken the recruitment process to a new level, secretly filming people on a busy street as they ignore a young homeless boy rummaging through a bin for food.
The social experiment was conducted by the New Zealand police force to draw attention to the kind of people they want to sign up to join the force.
In the video, a young boy, who is a paid actor, is seen covered with grime and searching through garbage bins for scraps of food.
Although he is clearly hungry and in desperate need of help, dozens of people walk past him and ignore him.
Some people even throw rubbish into the bin while he is looking through it, while one passer-by appears to take a photo of him on his phone.
Eventually, a group of teenage girls stop and ask him if he is ok.
"Are you alright? Are you sure you're okay? Where's your parents?" they ask him, unaware they are being filmed.
"Where are your parents? Do you want any money?"
The video finishes with a slogan saying: 'Do you care enough to be a cop?'.
NZ police say they are using their new recruitment drive to try to attract people who truely care about the community and who want to make a difference.
"You're walking down a busy city street. You see a young boy, maybe ten-years-old, eating out of a rubbish bin. He looks dirty, tired, hungry and miserable," they said in a statement said.
"What would you do? Would you walk by and ignore him? Or would you stop to check if he is okay?"
NZ Police deputy chief executive of public affairs Karen Jones said if you "would have stopped, then you may be just the kind of person NZ Police is looking for".
"We are looking for people who care about the people in their communities. People who will step in when they see someone who needs helps or is doing something that is unsafe," Ms Jones said.
"The kind of people we want to attract care about making a positive difference."
The video has shocked many who cannot believe that so many people just walked past the boy without checking to see if he was ok or offering to help.
It has caused many to question the state of our society and wonder why no one would stop to help a child.
Many commenters have come out to say they would definitely have tried to help the boy, while others have suggested some people worry about approaching a lone child in public.
See the experiment below and tell us: what are your thoughts?
Would you stop to help if you saw a child like this on the street? Why do you think hardly anyone stopped to help him?
Comments