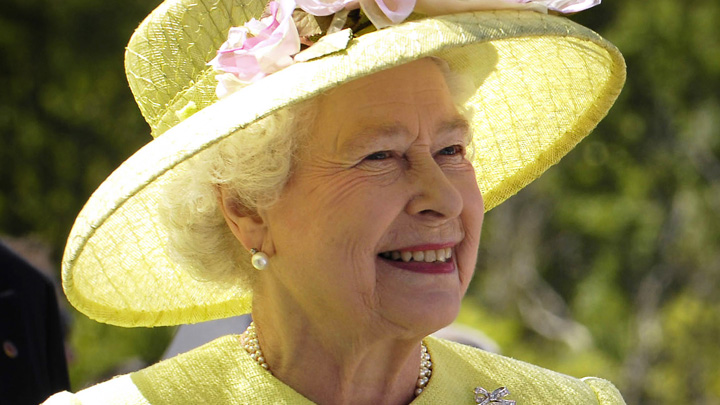 It was a dreary day in Birmingham until the Queen arrived and brightened it up with her amazing pink hat and outfit, plus her matching brolly.
Queen Elizabeth II was accompanied by Prince Philip to open the city's New Street development, arriving on none other than a special Royal Train.
A crowd gathered ahead of the Queen's visit, complete with a brass band to welcome the royal pair.
The Queen and the Duke paid their respects at the Pals War Memorial to city railwaymen killed in the First World War, then given a ride on the new tram, which even had LED lights that said they were aboard.
The tweets about the Queen came in thick and fast on social media, with some in disbelief that they saw the Queen on their way to work. Others commented on her delightful fuchsia outfit, a daring choice but clearly well-received! We couldn't agree more… just look at her!
Somewhere a royal wardrobe planner is freaking out because the Queen is about to clash with a tram #Birmingham pic.twitter.com/sjFzGgloq5

— Helen Ingram (@drhingram) November 19, 2015
Queen & Duke disembark Royal Train to begin their visit to #Birmingham New Street #QueeninBrum @BritishMonarchy pic.twitter.com/jGFsayPFMt — Richard Vernalls (@rvernallsPA) November 19, 2015
The Queen onboard the @MidlandMetro tram #QueeninBrum pic.twitter.com/Jd2E4Bx1PC

— BritishMonarchy (@BritishMonarchy) November 19, 2015
Super cute pic: And they both match… https://t.co/FW1F4doBGv #QueeninBrum pic.twitter.com/LC8GEJdNIx — Birmingham Mail (@birminghammail) November 19, 2015
Did I just see the queen in birmingham train station?

— Simon Cutts (@SimonLCutts) November 19, 2015

Birmingham Mail reports Her Majesty The Queen was wearing a cerise pink brocade dress by Peter Enrione with a pink cashmere coat and a matching hat by Angela Kelly.
After their tram ride, they were escorted to officially open the Birmingham Dental Hospital and School of Dentistry.
On their tour of the facility, the Queen and Prince Philip met the management, members of the clinical team, teaching staff and students. The Duke said to onlookers as he arrived, "Are you all here to have your teeth done?"
He had more quips, and joked that train announcers should speak in 'English not Brummie'! Network Rail operations controller Shaun Jasper said the Duke was "funny".
"A train announcer was stood next to me and he said 'Do you announce in a Brummie accent?'"
"She said no and he responded saying 'I suppose you've got to announce in an English accent so everyone can understand you'", Jasper said.
Interested in what the Queen and Duke ate? Their lunch included starters of smoked salmon terrine and mushroom and artichoke tart, with the main pan-fried chicken with cauliflower and parsnip puree with rosemary-infused Lyonnaise potatoes or asparagus and morel roasted gnocchi.
Desserts included apple and rhubarb tart followed by Black Country cheeses with Oxfordshire oat cakes. Wow…
Take a look at the very awesome pics below and tell us, what would you do if the Queen came to your town?
Comments