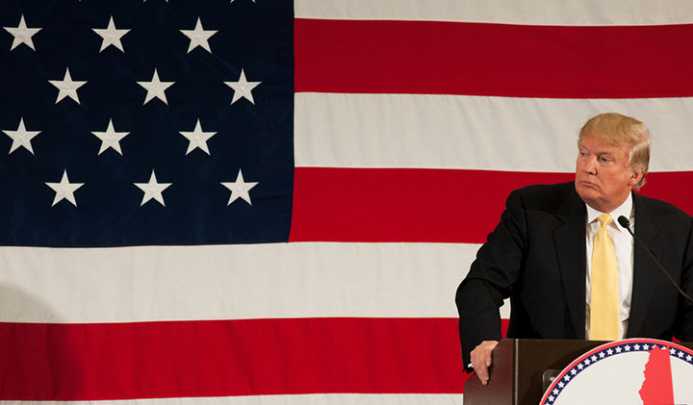 Could Donald Trump really become the leader of the free world?  As the numbers rise in his favour it looks like a real scenario that we will see Donald Trump as the Republican candidate for 2016 and that he could truly be in the running for President of the United States of America.
The GOP debate has been subject of the weekend, with many seeing Trump's shift in popularity as "just the beginning".  He has recently surged into the lead for the 2016 Republican presidential nomination, with almost twice the support of his closest rival.
Recent public policy polling showed up the hysteria around the race.  Donald Trump came first with 34 per cent of the votes, followed by Ted Cruz at 18 per cent of the votes.
Behind them site Senator Marco Rubio with 12.4 per cent and the retired neurosurgeon Ben Carson at 11 per cent of the Republican nomination vote in polling.
In the long Republican primary campaign Trump has used controversy as his best weapon, and it might be a very powerful thing given how popularity and media coverage rule the political roost these days.  Trump, with his reality TV background is no stranger to harnessing it.
Paddy Power, a sports betting agency in the US is showing the popularity of candidates for the presidency online at the time of writing with Trump at 6/1 odds of becoming President which we suspect no one would have believed a year ago. And the pace of his rise puts the prospect of him winning as a very real prospect.
Vladimir Putin sees him as a very real option for leadership in the race, and welcomed him openly in a press conference this weekend.
"[Trump] is a very colourful and talented man, no doubt about that.
"He is the absolute leader of the presidential race, as we see it today. He says that he wants to move to another level of relations, to a deeper level of relations with Russia. How can we not welcome that? Of course we welcome it."
But do you think the world would be the same with Donald Trump at the helm of America? Does it make you wonder "what is the world coming to?" or do you think this media-savvy mogul might be just what Americans and the modern world needs right now?
Comments