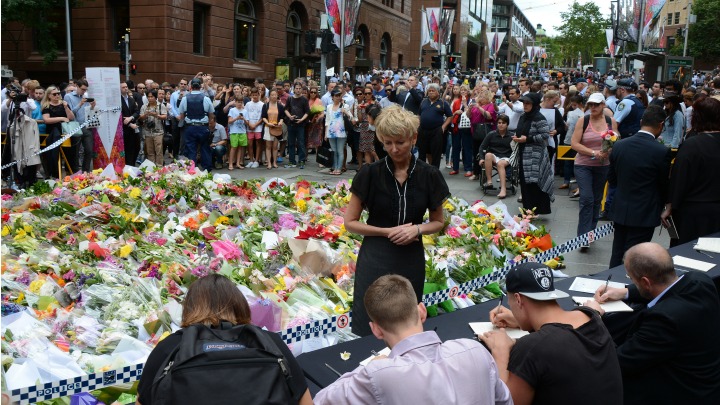 Today marls the anniversary of the Lindt Cafe siege in Sydney, and the NSW State Coroner has warned that it will be and "extremely difficult" day for the those who were touched by the incident.
In a rare public statment, Coroner Michael Barnes offered his deepest sympathy to the families of victims Tori Johnson and Katrina Dawson.
"In the days following the siege, we saw a monumental outpouring of emotion as thousands of people paid their respects to Katrina and Tori and Martin Place," Mr Barnes said, as reported by AAP.
"One year on, we need to remember these feelings will not have subsided, particularly for those impacted by the siege.
"In some instances, it could be worse."
Mr Barnes said families who have lost loved ones deal with their loss in their own way and need support. "You cannot put time limits on grief," he said.
Mr Barnes is leading the complex inquest into the siege at the cafe in Martin Place, one of the largest and most complex inquests in Australia.
The coroner acknowledged that the inquest has been "a challenging and confronting process for the families of Tori and Katrina", being the first to examine a potential act of terrorism. But he says those left behind have a right to know.
"These endeavours are justified because the families of Katrina and Tori are entitled to know whether the incident could have been managed in a way that would have avoided their deaths," he said.
"Further, the people of Sydney deserve reassurance that the law enforcement and intelligence agencies will, whenever possible, prevent similar incidents occurring in future and, if it is not possible, the response will be in accordance with world's best practice."
The inquest is due to be completed mid-next year.
A police operation and a ceremony will be held in Sydney tonight at 8.15pm in Martin Place between Phillip and Elizabeth streets.
Today, join us in sending our thoughts and prayers to the families of Tori and Katrina, and the police and civilians who  were affected by the siege. 
Comments