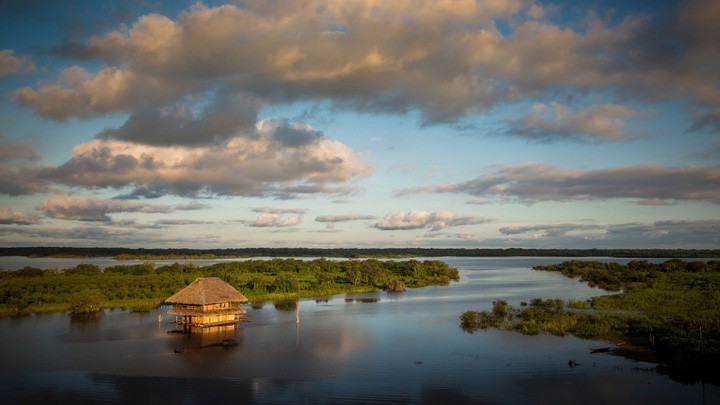 It's one of the natural wonders of the world, known for its mysterious waters, unique wildlife and cultural and eco significance. But could there be something lurking in the murky waters of the Amazon River? It turns out yes, and it's simply amazing.
Scientists have found a massive coral reef that stretches for some 600 miles at the mouth of the Amazon River in Brazil.
The Amazon River stretches from Peru in the west and flows east until it ends at the Atlantic Ocean – the second longest river in the world. Now, this amazing ecosystem holds another title to its name, according to a report published in the journal Science on Friday.
The reef system spans 3,600-square miles along the ocean floor, stretching from French Guiana to Brazil's Maranhao state along the edge of South America's continental shelf, reports CNN.
Why this is so surprising is because reefs do not usually grow in rivers due to the high salinity and muddy water. But against all odds, the Amazon coral reef system seems to be healthy, according to the report.
An international team of scientists from the University of Georgia and the Federal University of Rio de Janeiro were on an expedition to learn more about Amazon River when they made the discovery.
"Our expedition into the Brazil Exclusive Economic Zone was primarily focused on sampling the mouth of the Amazon," Patricia Yager, an associate professor with the University of Georgia and principal investigator of the project, said in a statement.
"We brought up the most amazing and colourful animals I had ever seen on an expedition," Yager said.
Along with the discovery of the reef, researchers sadly also found evidence suggesting the coral reef may already be threatened. "From ocean acidification and ocean warming to plans for offshore oil exploration right on top of these new discoveries, the whole system is at risk from human impacts," Yager said.
Take a look at the pics and tell us: does this amaze you? Would you ever visit the Amazon River?
A massive coral reef has been discovered in the Amazon River https://t.co/SrleECYIEu pic.twitter.com/AbtJ4z7cic

— CNN (@CNN) April 25, 2016
Huge coral reef discovered in the muddy Amazon River: https://t.co/xvjo9IXgpN pic.twitter.com/N5cm4x37Ad

— Nat Geo Photography (@NatGeoPhotos) April 24, 2016
One scientists says this just-discovered reef has the most amazing animals she's ever seen on an expedition. https://t.co/by5cif7hRM

— National Geographic (@NatGeo) April 22, 2016
Comments