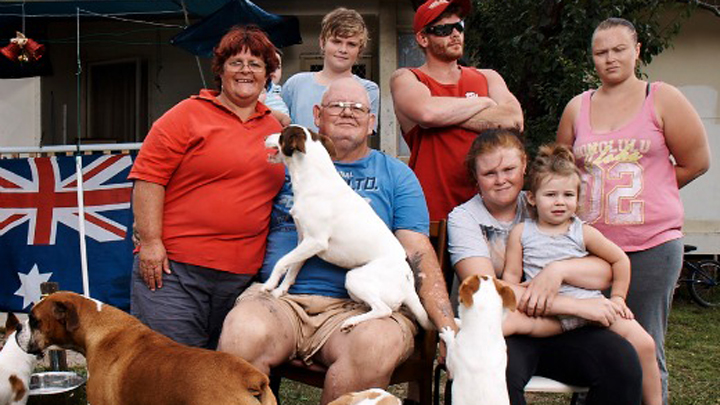 One of the most controversial shows of last year is back – Struggle Street, an intimate look into lower socio-economic families in Mount Druitt, NSW. It was widely watched but many criticised it at the time for being "poverty porn" and for exploiting struggling families for entertainment.
When it aired in May last year, Sydney Morning Herald described the show as "unfiltered" and "occasionally difficult to watch" but said it "gave a voice to people who are rarely heard".
Struggle Street followed the lives of five people living in Mount Druitt, in the outer west of Sydney. There was a disability pensioner with 10 children (including one with an ice habit) and his wife (who cares for them all); a 16-year-old victim of domestic abuse who barely had a roof over her head; and a homeless indigenous man who shots cats to feed his dogs.
It was deliberately provocative but the strategy worked. Around Australia, 1.3 million people tuned in to watch the first episode. The show itself delivered a sensitive, although raw, picture of people who have truly been dealt a bad hand in life.
Today SBS has revealed they have commissioned a second series of Struggle Street but instead of focussing on Mt Druitt, it will be filmed in Queensland and Victoria.
SBS said the six-part documentary series will "shine a light on social and economic disadvantage in Australia through a raw and compassionate account of individual and community stories of challenge, triumph and adversity."
It did not specify a particular suburb on which it would focus however the broadcaster said it would explore "through personal stories, challenges such as industry downturn and transition, unemployment and other issues of social and economic hardship which reflect the challenges of Australians across the whole country."
SBS Chief Content Officer, Helen Kellie, said: "There are 2.5 million people in Australia living below the poverty line. Some research points to the situation getting worse not better and this is a barrier to social cohesion. But the statistics don't allow us to connect with the real stories, in a way that Struggle Street does, to raise awareness about hardship", reports The Australian.
SBS Television and Online Content Director, Marshall Heald, said: "At the heart of SBS is a commitment to contributing to a cohesive society. Struggle Street will seek to raise awareness and deepen our understanding of those of us in the community facing social and economic hardship through an honest reflection of what it's like to be doing it tough in Australia today".
The series will air in late 2017.
Tell us, will you watch the second series of Struggle Street? Why or why not?
Comments