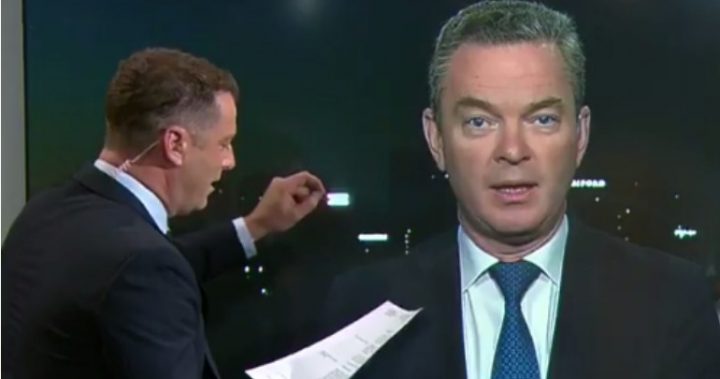 As you would imagine, the refugee deal, Donald Trump and US-Australian relations are all everyone in politics seems to be talking about this morning.
And the topic has lead to some fiery debate on the Today show this morning.
Karl Stefanovic decided to touch on the topic while interviewing Chris Pyne and Anthony Albanese – and it got Pyne pretty hot under the collar.
If you missed it, it was certainly entertaining.
Stefanovic asked Pyne about some of the things Trump has said in the past few days about the refugee deal, describing it as "humiliating rhetoric".
"Malcolm Turnbull stood up to it," Pyne said.
"The reality is Australia's interests are being put first. The deal will go ahead."
When Stefanovic interjected, Pyne said "let me answer the question".
"Sure it's not a deal that Donald Trump would have done if he had been president at the time and he obviously doesn't like the deal," he said.
"But a deal is a deal and Malcolm Turnbull is making sure that it happens. He's getting the outcomes for Australia ."
"The deal will go ahead." –@cpyne #9Today pic.twitter.com/9FOM8cWLeL

— The Today Show (@TheTodayShow) February 2, 2017
There was also a fiery debate between Pyne and Albanese about the issue.
"You're the government Christopher and you need to solve this and you haven't solved and now you're in your second term where you've been talking about finding a place for these people," Albanese said.
And then they began talking over each other in true political fashion
"These people are there because they came under you watch," Pyne hit back.
"We want these people to be settled but we also want to make sure that when we talk about Australia's relationship with the United States…." Albanese began.
Pyne interrupted, arguing that he didn't believe Labor wanted to settle the refugees – "I don't think you do actually," he said.
"The problem here is one Malcolm Turnbull came out and said it was all fixed…" Albanese began again.
"It is fixed," Pyne interrupted.
"Then we've had a shambles where we've had the US president try to conduct foreign policy and diplomacy through Twitter."
"We've had the U.S. president try to conduct foreign policy and diplomacy through twitter." –@AlboMP #9Today pic.twitter.com/1wwl2TqYFU

— The Today Show (@TheTodayShow) February 2, 2017
At the end of the interview Stefanovic asked "are you okay Christopher?", to which Pyne replied "Welcome back happy new year."
"So cranky this morning," Stefanovic responded.
And to that Pyne simply said – "just telling the truth."
If you watch the Today show you'll know it's the not the first time an interview between Stefanovic and Pyne has become fiery.
Back in September, Pyne accused Stefanovic of "defaming" him in an interview.
It seem there's never a dull moment in politics!
What do you think of the interview?
Comments