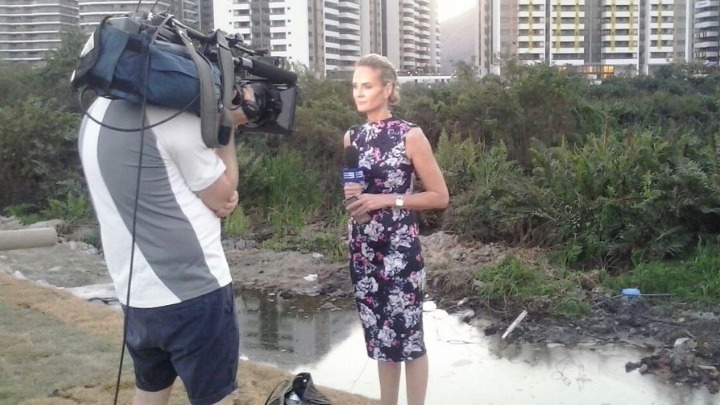 The controversy just won't end for the Rio Olympics… With only one week to go until the Games officially start there are reports of a huge spike in crime across Rio as athletes, media and spectators roll into the city.
Despite the 100,000 military and police manning the streets, muggings and kidnappings are occurring everyday, with Channel Nine's news crew the latest victim.
Nine reporter Christine Ahern had just landed in Rio with her crew when they headed to Copacabana Beach to do a story.
It was then they were targeted by a group of brazen thieves who didn't seem to care about the nearby police.
"We stepped straight off the plane. It was night time and we had to do a piece to camera. We headed straight to the beach and had a security team with us. We were only walking a block but he recommended we put our camera in a bag. We thought that was overkill," Christine told radio station 3AW.
"There were police on the corner and I walked past them and felt pretty safe… but it all happened in a flash. There was a group of transvestites and one came straight for my cameraman Glen. They tried to get the bag which contained the camera, and that's when our security guard intervened."
She said the thief didn't manage to get away with the bag, but her security guard was hit in the head as he tried to protect her.
"He did get clocked on the head by the bag which obviously had a brick or something inside it because it was pretty hard.
"He then quickly ushered us into the lobby of a hotel and we were out of harm's way."
It's just the latest report in an increasingly long line of crime in Rio lately.
Earlier this week, New Zealand Jiu-Jitsu competitor Jason Lee was kidnapped and forced to withdraw money from an ATM machine before being released.
He later wrote about the incident on his Twitter page saying: "What did you guys get up to yesterday? I got kidnapped. Go Olympics! #Rio2016."
What did you guys get up to yesterday?
I got kidnapped. Go Olympics!#Rio2016

— Jason Lee (@jasonleejitsu) July 24, 2016
The Games have been marred by controversy with reports the athlete's village was "filthy" and "unliveable" and that construction work is still incomplete at many venues.
There is also the dangerous Zika virus to consider, with many athlete's pulling out of the Games because of it.
With so much drama surrounding them, you have to wonder if the Games should even go ahead…
What do you think?
Should the Olympics have been cancelled? Would you feel safe enough to travel to Rio for the Games?
Comments