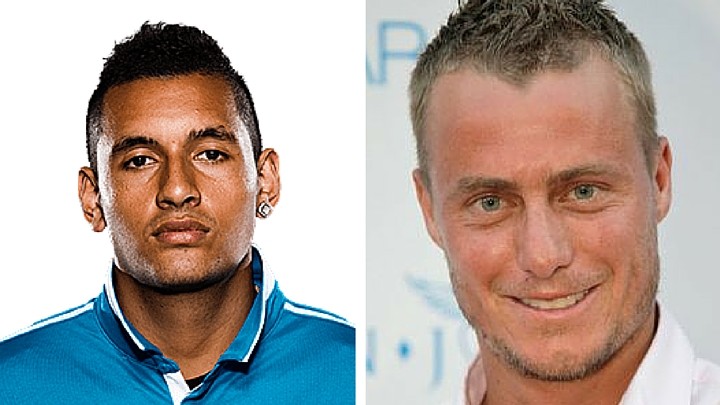 It's been 17 years since Australia had a win at the Hopman Cup but there's a very good chance that tonight we will break that drought and, like him or not, Nick Kyrgios will be leading the charge.
The 20-year old had a rough year last year, mostly because of his temper and inability to control his mouth on- and off-court. But the young player has had a great start to 2016, making his first career win against Andy Murray and beating France in a thrilling mixed doubles last night with teammate Daria Gavrilova.
The pair will face the Ukraine team in the final and the nation is pinning its hopes on them. Can Kyrgios handle the pressure? For sure. Can he handle his emotions – we'll see.
He has had some help from soon-to-retire gentleman player Lleyton Hewitt, who has acted as an unofficial mentor for the player who was booted out of the Davis Cup team for bad behaviour.
Kyrgios acknowledged the need to find a balance between being entertaining and engaging the crowd, and concentrating on his game. "I obviously play my best tennis when I find that balance," he said. 'I show a lot of emotion (and) I like to enjoy myself," he told Fairfax.
Further hope comes from the evidence that Kyrgios, while a stunning solo competitor, is even more formidable when playing as part of a team, with his background in basketball.
He spoke of his awe at playing the Hopman Cup and the comradeship involved, telling fairfax, "It's an event that's been held for a long, long time – before I was even born," Kyrgios said. "It's pretty special. Especially me and Dasha – we grew up together in juniors. Hopefully we can bring it home."
The last time Australia won the Hopman Cup was when Mark Philippoussis and Jelena Dokic defeated Sweden in the final at Burswood Dome. Australia hasn't appeared in the finals since 2003, when Lleyton Hewitt and Alicia Molik were defeated 3-0 by Serena Williams and James Blake.
Tonight, Gavrilova and Kyrgios will face off against the Ukrainians in singles, then possibly doubles.
Join us in wishing team Australia Green the best of luck! Will you be watching?
Comments