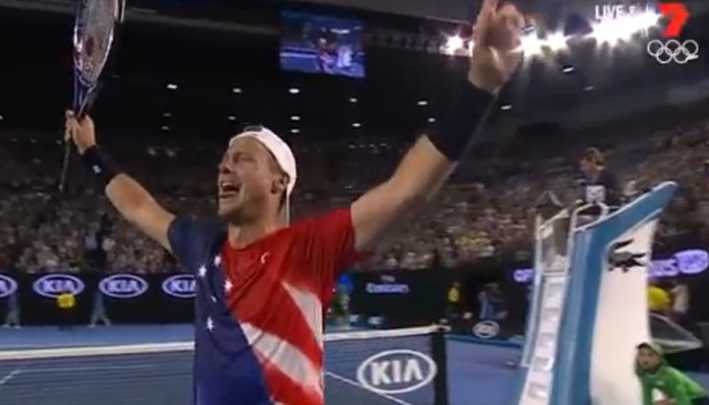 Lleyton Hewitt lines up tonight against David Ferrier the world number eight, in the Australian Open and his performance two days ago has his compatriots saying he could delay his retirement another day, keeping the Aussie dream alive a little longer. Do you think he can too?
Earlier this week Hewitt surprised the nation and the tennis elite who had turned up to watch him play what pundits tipped to have been his last match in the Aussie Open ever, willing him on to a win that slowed his retirement a few more days. Tonight they'll line up for him all over again. The media and his tennis peers are optimistic. Nick Kyrgios is hopeful and even 34 year old Hewitt gives himself a self-confessed "fighters chance".
Kyrgios says Hewitt can go all the way according to the ABC.
"He's the best competition in the world and he's still going.
"He's more than capable of having a great two weeks here. He can go far."
Dogged Spaniard David Ferrer is happy to play the spoiler's role, but Nick Kyrgios is backing compatriot Lleyton Hewitt to spring an Australian Open boilover on Thursday night to once again delay his impending retirement.
Contesting his 20th and final Australian Open, Hewitt takes on the world number eight under lights at Rod Laver Arena.
So too does Kyrgios, who reveres his new Davis Cup captain and mentor and says the passion he brings to the court is unrivalled in tennis.
Ferrer has played Hewitt three times in recent years, with the Spanish player winning the last two confrontations, but there is nothing like Hewitt's iron will to retire on top to power him on.
"I've played against Lleyton a few times. He was and is one of the best players in the world," Ferrer said.
Hewitt plays Ferrer at 7pm AEDT and you can watch it on Seven.
Will you be watching?  Who do you think will win?  Share your thoughts.  Are you a Hewitt supporter?
Comments