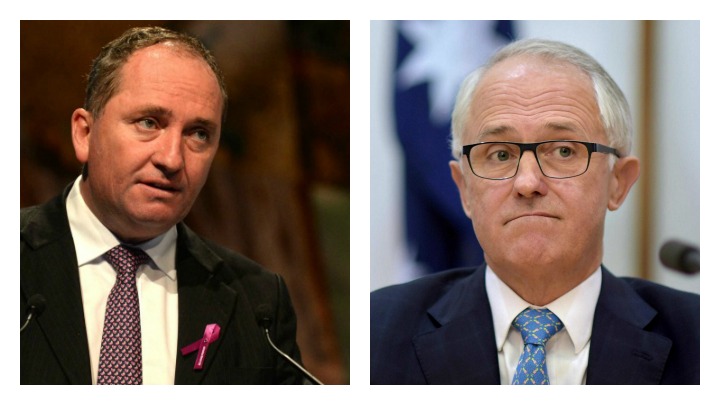 Well it was a brief few weeks of party unity, but it looks like there's already trouble brewing in the newly formed government with calls for the Liberal National Party to be separated.
The tension is coming from the Queensland Liberal National Party who are looking to have more ministerial power in Canberra.
Yesterday, Deputy PM and Nationals leader Barnaby Joyce was forced to fly to Canberra to shut down a vote calling for the Queensland LNP to have their own separate partyroom in the hopes of having more autonomy.
Mr Joyce is "petrified" of the idea of a split as it would diminish his power and potentially threaten his job as deputy PM.
So what happened to the government we were promised?
Surely the united front and elation of winning the elation can't have worn off yet…
The trouble is said to be caused by Malcolm's Turnbull's cabinet reshuffle, which saw more Liberal Party members and less LNP members make the front bench.
One member of the state executive told The Australian the defeat of the motion to separate was "only the beginning'' of the debate. "It has an inevitably about it,'" he said.
"There are now parliamentarians and thousands of new party members who have no allegiance to either the Libs or the Nats.
"This is a very serious matter and it was triggered by the failure of the PM and the deputy PM to ensure the right allocation of Queenslanders to the ministry. After the election, the LNP is proportionally higher in the ­Coalition but instead of gaining more frontbench spots we are worse off and lost ministries to NSW.''
Do you think the LNP should separate? Are you disappointed to see this kind of drama so soon after the election?
Comments