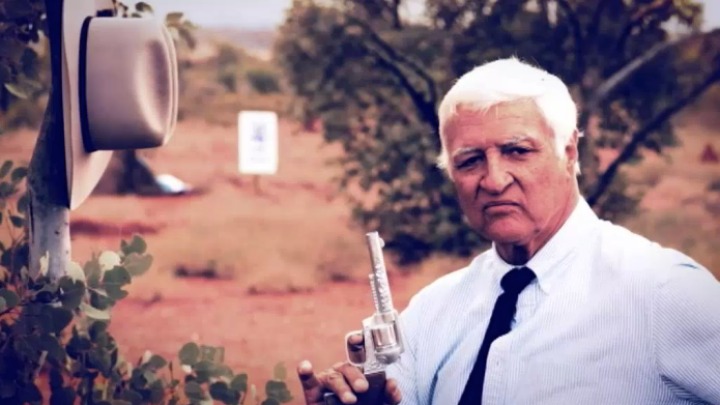 Australia's gun laws have been praised around the world in the wake of the Orlando shootings, but all that appears to be irrelevant to Queensland MP Bob Katter who has released a new campaign ad where he acts out shooting dead two of his political rivals.
The ad shows two men wearing ALP and LNP shirts erecting an Australia "for sale" sing.
Mr Katter is then shown looking down the barrel of the camera holding a silver gun with the clearly visible bodies of his opponents laying on the ground behind him.
The ad has sparked a fury with calls from both sides of politics for Mr Katter to resign and even some of his own supporters have shared their discomfort and disapproval.
"Embarrassed to have you even be associated with rural Australia," wrote one commenter on Mr Katter's Facebook page.
Others though, rallied behind him saying they loved the ad and were glad he was ready to "stand up for Australia".
"Good on you Bob! At least someone has Australia's interests at heart," said one fan.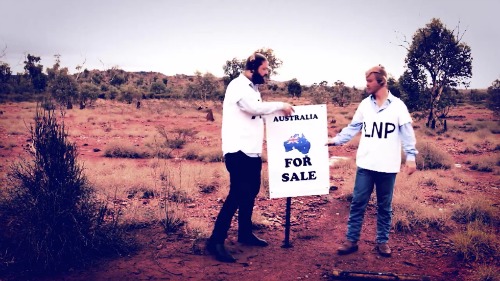 The ad has really hit a nerve for many people, especially following the shocking attacks in Orlando this week where 50 people were shot dead in a nightclub.
A number of politicians have come out to say there is no place for this kind of insinuated violence in Australia, with Mr Katter's half-brother, ALP candidate Carl Katter, branding it "absolutely disgusting".
"Australians, they're very proud that we've taken [our] stance for gun laws, but to see this in our country is gross," he said.
"It's disgusting and I think a lot of people, everyone I've spoken to, finds it just disgusting."
However, Mr Katter said he thinks the ad is "very funny" and doesn't see what the problem is.
"I'm not giving an explanation, you can go and watch the advertisement because it's anti-selling off Australia advertisement," he told the ABC.
"I think most people will enjoy the humour. I thought it was very funny, I must admit."
He said he was not deliberately controversial.
"It was just for humour value. But it was humour getting a message across," he said.
"What's not funny is the selling off of this country. We hate it and we're tenaciously opposed to it."
What do you think about the ad? Do you think it's inappropriate, or is it just funny?
Comments