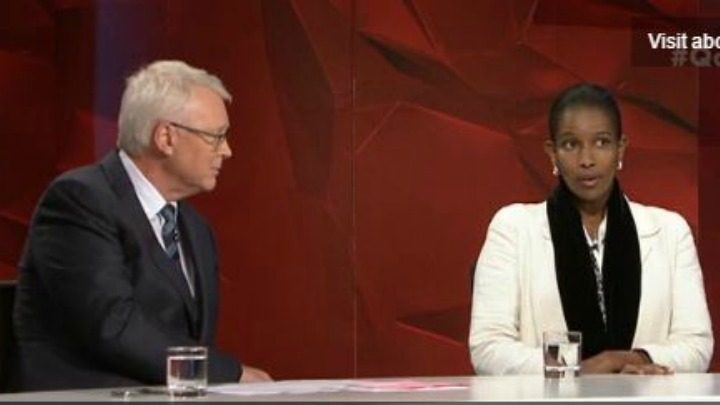 An interesting question was posed to the panel of ABC's Q&A program recently.
Without a politician in sight, the panel was made up of authors, poets and rappers all in Sydney for its annual Writers Festival, and instead of discussion centred on the latest Federal budget or fortune telling on the outcome of the upcoming election, religion and the lack of social equality was at the forefront of the program.
The big question of the evening came from the audience. Rohan Venkatraman asked if it was fair for moderate Muslims to be asked to publicly condemn radical Islamist terrorists.
.@Ayaan: Is it fair to call on the largely peaceful observant majority to condemn these acts? #QandA https://t.co/CBlgIWvKNF

— ABC Q&A (@QandA) May 16, 2016
Controversial Somali-Dutch author Ayaan Hirsi Ali responded by saying, "We live in a world where people who identify themselves as Muslims invoke the Koran and invoke the Prophet Mohammed and go around killing people and shouting 'Allahu akbar'. I think it is perfectly justified for those of us who don't do that to ask fellow Muslims… 'what on Earth is this about?'"
An atheist who has called for Islam to undergo a major reformation does not believe such a request is Islamophobia.
"If you share the philosophy, the religion, the background, the tradition and that is posed, it is making an appeal on your citizenship, on your obligation to this community and I don't think you should be offended by that," Ali says.
However, others on the panel said that while people have a right to criticise religion it had the potential to be dangerous, especially from outsiders.
Former United States military adviser and Middle East political lecturer Emma Sky argued that outsiders (Westerners and those not of the faith) needed to empower moderate Muslims to speak out against extremists.
She went on to say that greed is something that is negatively affecting the world you are living in.
"This whole society, the whole web of the acceptable diabolical regime, which is swallowing the globe, eating up resources, it's making people ill with anxieties and there is an awful, awful kind of interplay here between what we think of as an acceptable evil and a kind of non-acceptable evil," Sky said.
"The core of all this is greed and it is unacceptable in this day and age."
What do you think of Ali's response? Like Sky, do you think greed is the root of all evil?
Comments