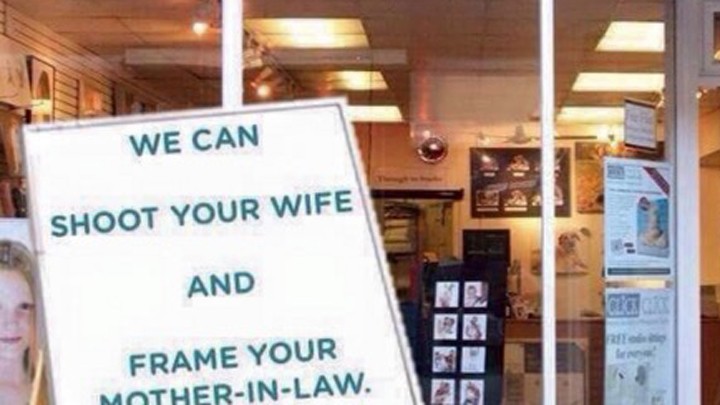 It's been shared across the internet but when it comes to what is and isn't funny, the Advertising Standards Bureau has the last say.
Fantastic Framing in Sydney posted the offending photo on their Facebook page, and it is also on the back of their mobile vans:
The Advertising Standards Bureau has ruled the one-liners, from Fantastic Framing, were "not funny" and breached standards, reports the Daily Telegraph.
Complaints were made about the mobile framing service, with members of the public saying the sign was sexist and violent.
"We can shoot your wife and frame your mother-in-law. If you want we can hang them too!", said the sign, which has now been banned.
The advertising bureau found the "intended humour has now worn off".
"The double meaning of the advertisement is not relevant to contemporary society given the high level of community concern with regards to violence towards women," the board ruled.
"The majority of the board acknowledged the advertiser's intent was to inject ­humour into their advertising but considered making a joke about using a gun or hanging a person would not be found funny by most members of the community".
The ruling came as a shock to the business, as they received positive feedback on the sign, which is just a light-hearted play on words.
"We have no intention to hurt anyone," the firm said in its response to the complaint.
"We just tried to be funny and smart to our customers".
It definitely raises the question of political correctness.
Tell us, is the sign offensive? Or is this political correctness gone mad?
Comments