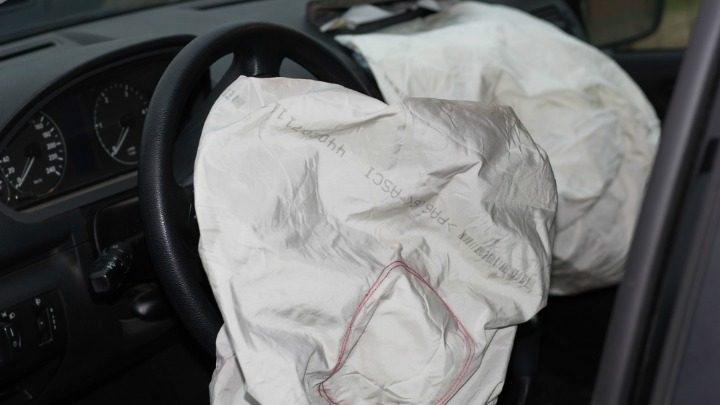 Hundreds of thousands of people in Australia have had to hand over their cars due to a defective airbag that can spray shrapnel in a crash, and that number has just risen into the millions.
Nissan added another 41,154 Tiida hatchbacks to its recall list overnight, bringing the Australia-wide total up to 1.2 million.
Honda and Toyota have also recalled cars over the same issue with both car makers working furiously to get through the returns and fixes.
The airbags have already killed 12 people around the world and only a small fraction of the affected cars have been fixed.
Honda says it has repaired 146,000 of its 421,351 cars so far — one in four — at a rate of 5000 cars per week.
Nissan says 40 per cent — or close to 100,000 cars — have been fixed so far.
Meanwhile, Toyota Australia says it does not know how many cars it has fixed so far but repaired 16,162 of its 258,000 cars last month.
More than 53 million cars around the world have been recalled due to the airbag issue after testing by manufacturer Takata found the hidden danger when it was activated.
It's estimated that close to 10,000 Australians are driving in cars with these airbags, meaning they are facing a frightening and dangerous situation if they crash and the airbags are activated.
Drivers are being urged to double-check updated lists to ensure their car has not been added.
Anyone who does have a car named on the list should return their car to the maker immediately.
You can see the full list of recalled cars below.
Takata airbag recall by brand
Honda 421,000
Nissan 264,674
Toyota 258,000
Mazda 150,000
BMW 43,734
Subaru 33,556
Chrysler 5508
Total so far: 1,183,698 (as of 17 May 2016)
Takata airbags: the recalled models so far
Chrysler 300C sedan 2005 to 2007
BMW 3 Series 1997 to 2006
Honda Jazz 2004 to 2009
Honda Accord 2001 to 2006
Honda Accord Euro 2004 to 2007
Honda CR-V 2002 to 2008
Honda Civic 2004 to 2005
Honda Civic 2006 to 2011 (added 25 February 2016)
Honda Legend 2007 to 2012 (added 25 February 2016)
Honda Jazz 2012 (added 25 February 2016)
Honda MDX 2003 to 2006
Lexus SC430 2001 to 2003
Mazda6 2002 to 2007
Mazda6 2006 to 2009
Mazda RX-8 2002 onwards (added 8 March 2016)
Mazda B2500 ute 2002 onwards (added 8 March 2016)
Mazda BT-50 ute 2007 to 2011 (added 8 March 2016)
Mercedes-Benz SL and SLK 2014
Nissan N16 Pulsar 2000 to 2006
Nissan D22 Navara 1997 to 2004
Nissan D40 Navara 2008 to 2014 (added 1 March 2016)
Nissan Y61 Patrol 1997 to 2010
Nissan T30 X-TRAIL 2001 to 2007
Nissan A33 Maxima 1999 to 2003
Nissan Tiida 2006 to 2012 (added 17 May 2016)
Subaru Impreza 2004 to 2007
Toyota Echo 2003 to 2005
Toyota RAV4 2003 to 2005
Toyota Corolla 2003 to 2007
Toyota Yaris 2005 to 2007
Toyota Avensis 2003 to 2007
Have you been affected by this recall? Have you ever had to return an item due to a recall?
Comments