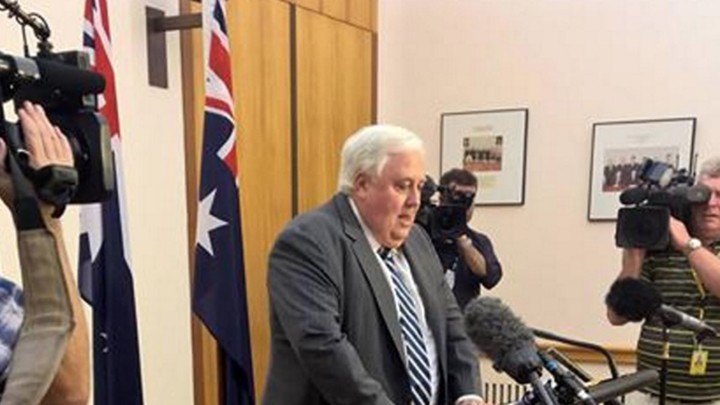 Reports are in this morning that Clive Palmer's assets could be ­frozen by liquidators of Queensland Nickel which was placed in administration this week while they determine if he breached his director's duties as alleged.   It is something that has his former employees cheering and we want to know what you think. Not many in Australia appear to have much sympathy for the politician.
Hundreds of Mr Palmer's former employees and suppliers cheered as they voted unanimously to wind up QN at a packed creditors' meeting in Townsville, three months after the first of nearly 800 workers was sacked from the north Queensland refinery according to the Australian.
"It's now time to start to chase the money," said liquidator John Park, to the meeting.
The Federal Member, renowned for his mining-earned wealth has been hit with a long series of blows over the last 12 months, and this looks to be the start of another period of public attack.  Queensland Nickel owes approximately $300M at the time of liquidation, and as the owner and allegedly, a shadow director, Mr Palmer is being accused of being behind the losses.
Public opinion is a terribly jury in cases like this where so many people are affected, and Palmer's strongly disruptive political stance makes him an even better target for the media and everyday people.
The Australian reports that his nephew Clive Mensink, is the sole official director of Queensland Nickel, and that both he and Mr Palmer are alleged to have "recklessly" breached their directors' duties by siphoning $224m from QN's coffers to Palmer-­related companies before QN crashed, and then loans of $189M were forgiven.
The tax office is apparently investigating, and had their own representative at the creditors meeting.
There is some hope  that Mr Palmer and Mr Mensink may be personally liable for any debts incurred by QN after it became insolvent.  The liquidators believe this could have been as early at 27 November last year.
Steps are already in place to recover the monies from Palmer's other companies, the recipients of the payments.  Call notices have been served demanding payment of $190m from QNI Metals and QNI Resources, the parent companies of Queensland Nickel.  If the court upholds the demands, the company's assets could be sold, at a value according to media reports that could be up to $1.9B.  The assets include a central Queensland cattle station.
The challenge is that to liquidate the refinery assets will leave the company operations mothballed forever.  Instead one worker requested that someone work out how they can "sell a few mansions" of Palmer's and Mensink's.
The ripple effects for Palmer could be significant, with consideration being made for cash being paid into Mineralogy and his other business, Coolum Palmer Resort, a once-thriving Hyatt resort that hosted the PGA, with the resort now closed, the event held elsewhere causing other community disputes in his electorate.
Apparently, liquidators could apply to freeze Palmer's personal assets.  "It's something we'll be looking at. We've got to determine what's the sweetest route (to recoup the debts)."
Meanwhile, taxpayers will foot the bill for the entitlements owed to Queensland Nickel workers of $68M and $74M.
Palmer continues to call out politicians for using their power to attack him. His Facebook and Twitter tirades suggest he is convinced that this is all caused by a political vendetta. Some media outlets support the politician.
I thought considering the misinformation that the government had distributed, I need to set the record straight. https://t.co/JjsfoVZeqv

— Clive Palmer (@CliveFPalmer) April 20, 2016
Comments