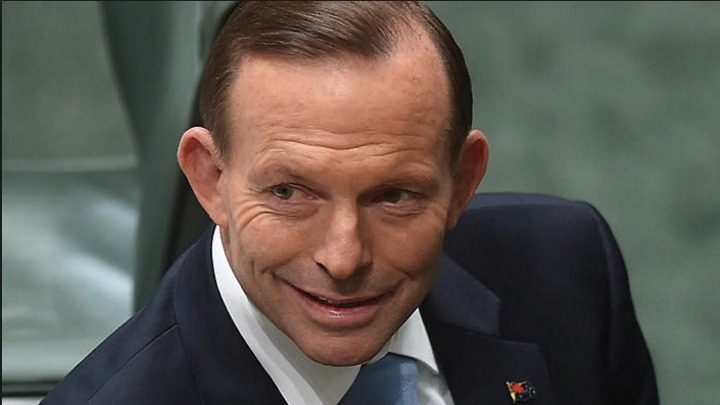 He may have been ousted as prime minister, but Tony Abbott has proved time and time again that he's not going anywhere anytime soon.
Now the former PM has a new reason to smile after it was revealed that Malcolm Turnbull and Federal Treasurer Scott Morrison plan on using a number of old budget policies from Mr Abbott's era.
Mr Abbott faced huge backlash, alongside his treasurer Joe Hockey, for his tough budgets which saw huge cuts to welfare systems and a proposed increase in the pension age.
New details about the budget, which will be delivered later today, reveal that $13 billion worth of Mr Abbott's old budget measures will be included in the new proposal.
They are measures that he proposed in both his first and second budgets, but which failed to pass in the Senate.
The biggest are the $600 million from planned cuts to access to Family Tax Benefits and $258 million from the outlawing of alleged double-dipping of maternity leave schemes.
Some of the most controversial proposals include lifting the age pension qualifying age to 70, increasing the age of eligibility for Newstart payments, imposing an extra one-week waiting period on all working-age payments, and tightening access to the Medicare Safety Net.
While these measures are said to save Australia billions, many have questioned why Mr Turnbull would include them in the budget after it was such a failure when Mr Abbott tried.
There was public outcry over many of Mr Abbott's drastic budget measures and it is thought they played a huge part in his eventual ousting as prime minister.
With an election just around the corner, many are wondering if Mr Turnbull just shot himself in the foot.
Since he was dumped from office, Mr Abbott has repeatedly defended his tough budgets so the news that he is still influencing policy and the economy across the country is no doubt music to his ears.
What do you think about these budget proposals? Do you support an increase in the pension age and cuts to family welfare benefits?
Comments