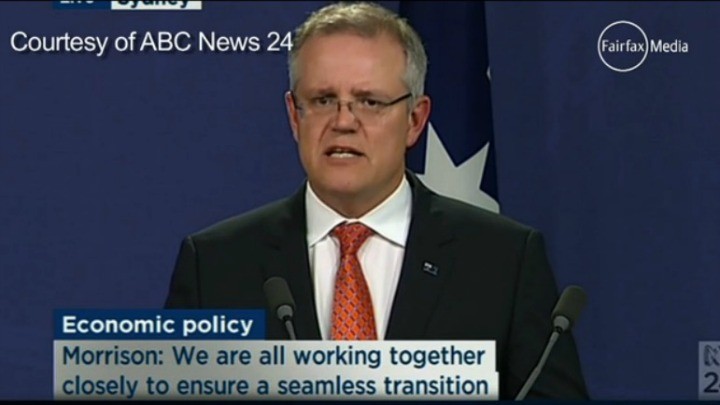 Scott Morrison and the minister for finance Mathias Cormann have announced the mid-year economic and fiscal outlook and they assure us that the budget cuts proposed to offset spending on innovation and refugees won't hurt a bit.
Overall, the deficit has blown out by$2.3 billion to $37.4 billion. The government recently announced $1.1 billion spend on innovation, and around $900 million is required to resettle 12,000 Syrian refugees in Australia and also in conflict zones. Another $1.1 billion has been pledged in extra roads funding and $621 million for new pharmaceutical subsidies., "mostly for cancer medications", according to the treasurer.
So the question on everyone's lips is, how will the government pay for all this?
The ABC reports the following savings:
Cracking down on welfare compliance ($704 million)
Cuts to health workforce programs ($595 million)
Cuts to Aged Care funding – targeting "duplication" and "inefficiencies" ($472 million)
Means testing the Child Care subsidy for families earning more than $250,000 ($441 million)
Removing bulk billing incentives for pathology services & reducing the incentive for MRI services ($639 million)
Scott Morrison told Australians that despite the falling price of iron ore wiping out $7 billion from tax revenue over four years, "our economy is heading in the right direction".
While it's good to see that there are no cuts to the pension, any health cuts are bound to impact people.
When asked about having diagnostic and imaging services such as MRIs taken off the Medicare benefit schedule, however, Mr Cormann said, "It is not expected to have an impact on people."
He continued, "What we are seeking to do here, in the main, is make the benefit arrangements consistent with those that apply in the context of benefits for GP services so there is what is described as a bulk billing incentive payment in relation to GP services that is limited to concession cardholders, children under 16 years of age and so on. In relation to the bulk billing incentive payment for diagnostic imaging services, we are essentially making it entirely consistent with that. We thought that was an anomaly here.
"In relation to pathology services, we are removing the bulk billing incentive payment because there is a very strong competitive sector here."
Mr Morrison reiterated that patience and responsibility were the drivers on the path to budget balance.
He used the metaphor of the Christmas car trip, he said he expected a lot of Australians to ask "are we there yet?".
"We need to take a safe and careful route and one does not put at risk our jobs and growth," he said.
"We are not going to take detours or short cuts. We are not going to put the safety of the passengers at risk. Those passengers are growth and jobs of Australians."
What do you think? Has the treasurer delivered a "fair" set of savings to offset the new expenditure? How will you be affected?
Comments