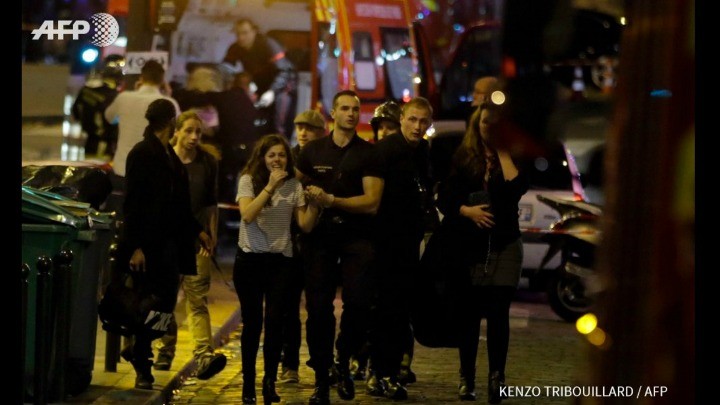 Reports are emerging that at least 30 people are dead after shootings in a restaurant in Paris and also an explosion in a bar near a stadium.
It's believed the shooting took place in the 10th arrondissement of the capital in a restaurant called Petit Cambodge.
Police have arrived on the scene and witnesses say there are people lying on the streets, presumed dead.
Meanwhile, at the Stade de France, north of Paris, it is believed two explosions have occurred during a France-Germany football match, the blast loud enough to be heard over the cheering of the crowd.
President Francois Hollande was removed from the stadium after the shooting, according to iTele.
Sky news reports that there is also an ongoing hostage crisis in the Bataclan, a concert hall in the French capital.
It's not clear at this stage whether the events are linked.
100 hostages and 35 dead in Paris.

— Lucas Navarrete (@LucasNavarreteM) November 13, 2015
I'll repeat again: Anyone in Paris, stay inside, lock your doors and get away from the windows

— Wastelander Ajak (@ajak55) November 13, 2015
Photos show a chaotic scene after multiple attacks in Paris leave as many as 35 people dead pic.twitter.com/halAUDifcY

— BuzzFeed News (@BuzzFeedNews) November 13, 2015
100 people have being taken as hostages in paris by terrorists , over 35 people dead now pic.twitter.com/mu8xT52hlB

— Football Facts (@FootyFunFacts) November 13, 2015
Map from @nytimes of locations of attacks in Paris tonight: #parisattacks pic.twitter.com/wXRwvfFDyf

— Julia Macfarlane (@juliamacfarlane) November 13, 2015
Join us in sending our thoughts and prayer to France today as this crisis unfolds. 
Comments