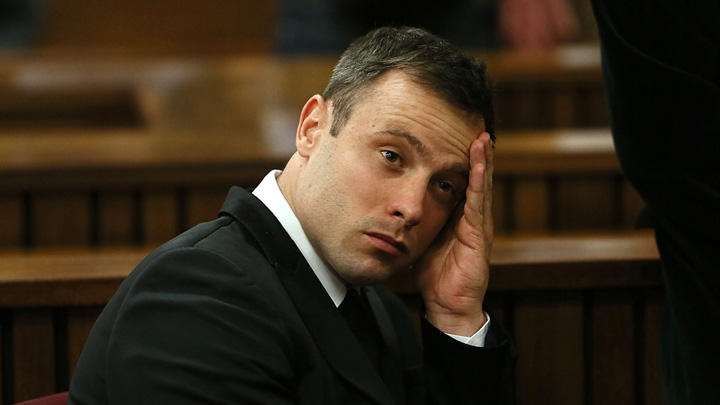 In what has been one of the most polarising news stories of the past year, the verdict on the Oscar Pistorius appeal trial has been handed down – guilty of murder.
The former 'Bladerunner' now faces at least 15 years in prison for the shooting murder of his girlfriend Reeva Steenkamp in February 2013.
Last year a judge gave Pistorius a five-year jail sentence for "culpable homicide" but prosecutors on appeal argued that he should be convicted of murder.
Judge Eric Leach told the court Pistorius was "guilty of murder, with the accused having criminal intent".
"The matter is referred back to the trial court to consider an appropriate sentence", reports the ABC.
"I have no doubt … the accused must have foreseen and therefore did foresee that whoever was behind that door might die", Judge Leach said.
Pistorius stood firm in his argument that he mistook Steenkamp for an intruder, and shot her several times through a locked toilet door.
"It is inconceivable that a rational person thought he was entitled to fire at this person with a heavy-duty firearm," Judge Leach said, who described Pistorius' testimony as "vacillating and untruthful".
"He ought to have been convicted not of culpable homicide on that count but of culpable murder."
State prosecutors argued the murder was premeditated and Pistorius intended to kill Steenkamp after a fight.
Pistorius is currently under house arrest at his uncle' house after being released from prison last month, and he will stay there while he awaits resentencing.
In South Africa, a murder conviction usually carries a minimum sentence of 15 years, although Pistorius' physical disability and mental stress may be used to downgrade his term.
A statement from the Steenkamp family has not yet been released, however Steenkamp's mother expressed compassion for the athlete earlier this year.
"I've got no feelings of revenge. I don't want to hurt him; he is already a disabled person," June Steenkamp said in a televised speech at her daughter's former school in Port Elizabeth, reports The Guardian.
"That's not going to bring Reeva back", she said.
Tell us, are you happy with the appeal's outcome? Do you think Pistorius meant to kill his girlfriend or was it a horrible mistake?
Comments