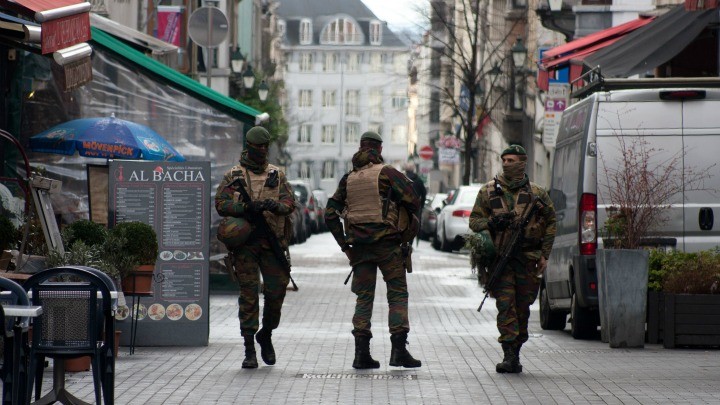 Authorities in the Belgian capital of Brussels have cancelled New Year festivities, because of an undisclosed terrorist threat. Elsewhere in Belgium, two people have also been arrested on suspicion of plotting a New Year's Eve attack.
"Unfortunately we have been forced to cancel the fireworks and all that was planned for tomorrow evening, that would have brought a lot of people together in the centre of Brussels, following a risk analysis by the crisis centre", said the local mayor, Mr Yvan Mayeur.
He explained it would not be possible for police and other security personnel to "guarantee that we can check everyone coming to the event". Mr Mayeur also added, "it's better not to take any risks".
Meanwhile, six people where questioned in the regions of Brabant and Liege, which neighbour Brussels. On Sunday and Monday, police arrested two members of the group but another four were released. Police found military clothing and Islamic State propaganda during their house raids.
The two men arrested are believed to be members of Kamikaze Riders, a motorcycle gang whose members are mostly of North African origin.
Last year, over 100 000 people turned out to watch Brussels' traditional New Year's Eve fireworks at the Place de Brouckere. Cancelling a major celebration has left many people in Belgium, and throughout the international community at large, feeling angry and despondent.
As one Facebook user wrote online, "on the eve of 2016 I would just like to say it's time for us, as citizens, all around the world to implement a new way of dealing with terrorism, life is meant to be celebrated not terrorised". 
Australia's current terror threat sits at 'Probable', as deemed by the National Terrorism Threat Advisory System. Indeed, some people are worried about New Year's events planned throughout Australia, with another Facebook user writing, "I'm also in Sydney and you wouldn't catch me dead in the city tonight".
In an ironic comment, another woman wrote, "welcome to our new way of life. Happy New Year everyone". 
Are you worried about New Year's Eve events being marred by terrorism? Do you take extra precautions when out and about with large crowds? Are terrorist threats ruining the Aussie way of life?
Comments